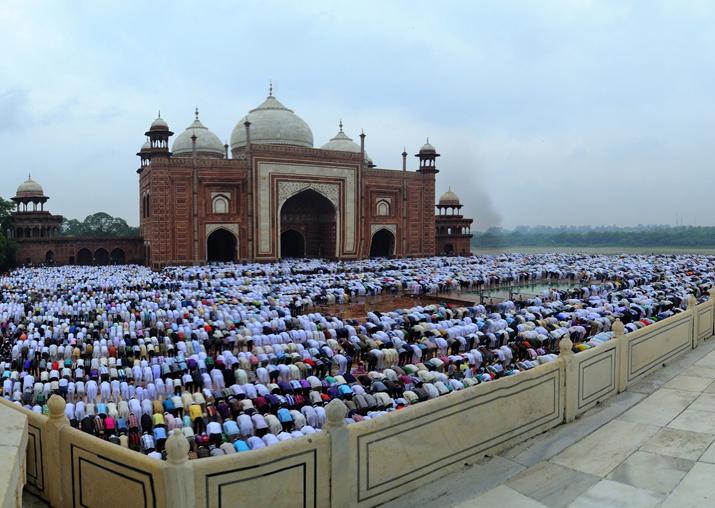 Amid raging controversy over Taj Mahal, Akhil Bhartiya Itihaas Sankalan Samiti, the history wing of Rashtriya Swayamsevak Sangh (RSS), today said that if Muslims are allowed to offer namaz at the 17th century mausoleum then Hindus should also be given the permission to pray there. 
It also demanded that the World Heritage Site should remain open for everybody on Friday.
Balmukund Pandey, national organization secretary of the Akhil Bhartiya Itihaas Sankalan Samiti, said that since the Taj Mahal is a national heritage site, Hindus too be allowed to perform puja inside the premises of the white marble mausoleum.
Pandey further claimed that there is ample evidence that Taj Mahal was a Shiv temple and that it is not a symbol of love built by emperor Shahjahan who married within four months of his wife Mumtaz Mahal'a demise.
Meanwhile, Shia cleric Maulana Yasub Abbas has termed the entire controversy linked to Taj Mahal as 'useless'.
"It is an attempt to divide people in the name of namaz and puja. Let the things flow as they are going on. This will portray a bad image of our country. Instead we should work together to protect the monument," the cleric said.
"What Mughals did was wrong but we should protect the structure," he added.
Taj Mahal, country's most popular tourist destination, is closed on Fridays to facilitate the prayers. It has been at the centre of a massive controversy from last few weeks over its status. The controversy erupted when BJP MLA Sangeet Som said that  that the 'monument was built by traitors and that it is a blot on Indian culture'.
The demand from RSS-affiliate group comes just a couple of days after activists of Rashtriya Swabhiman Party entered the Taj Mahal and recited 'Shiv Chalisa'. The outfit's workers said that they have rights to perform prayers here because Taj Mahal was a Shiva Temple before it was converted into a mausoleum.