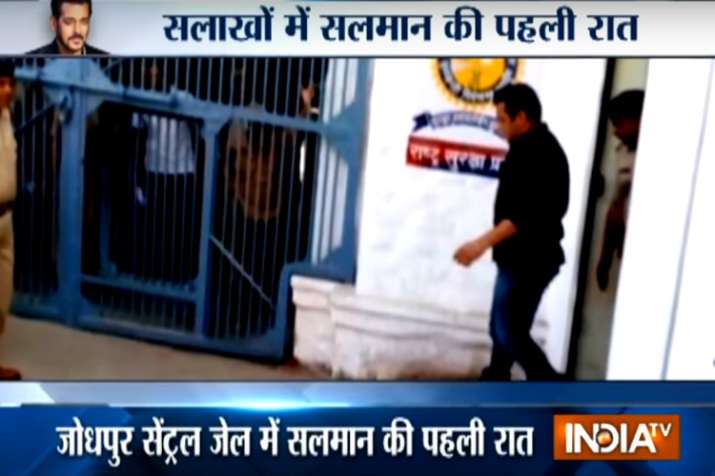 Soon after being sentenced to five years of imprisonment in the 1998 blackbuck poaching case, Bollywood actor Salman Khan was taken to the Jodhpur Central Jail, where he was kept in ward no. 2 as Qaidi no. 106. 
Jail authorities told India TV that no special treatment was being given to Salman, and he was being treated as a normal prisoner. 
For dinner, the actor was served chana dal, cabbage and chapati. Sources, however, said the Bollywood icon did not eat the jail food.
For breakfast, Salman will be served sweet dalia and chai.
According to sources, Salman's bodyguard Shera brought homemade food and clothes for him. However, as per rules of the jail, the actor was not allowed to consume outside food. 
They added that Salman, himself, did not ask the jail authorities for any special treatment. 
Earlier, Jail superintendent Vikram Singh, while briefing the media on the celebrity inmate, said Khan would be treated as a normal prisoner and no special treatment would be given to him.
He will have a simple wooden bed, a rug and a cooler in his cell, Singh said.
"He (Khan) was given normal jail diet like Dal chapatti and the morning meal will include simple khichdi," he said.
Singh said that the actor had a blood pressure issue when he came inside the jail and the doctor of the prison dispensary checked him. His blood pressure was later declared normal.
On the reported threat to Khan by a gangster, Singh said, "We are thinking of keeping him with some other prisoners from tomorrow so that he is not alone considering the threat to him."
A local gangster had reportedly said he would kill Khan in Jodhpur.
Video: How Salman Khan spent last night in Jodhpur jail