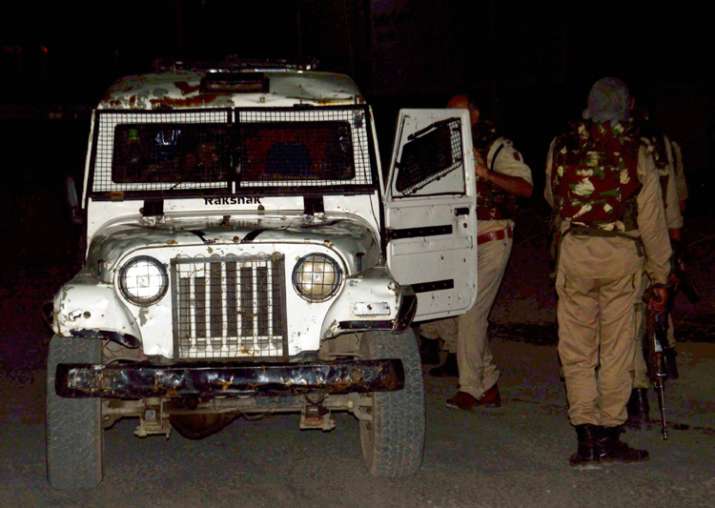 Seven pilgrims, including six women, were killed and 19 others were injured on Monday when terrorists resorted to indiscriminate firing at a bus carrying Amarnath pilgrims in Ananatnag district of Jammu and Kashmir. The incident occurred in Khanabal area of Srinagar-Jammu National Highway 1A, around 55 km from Srinagar. India TV reached the incident site to take stock of the situation this morning.
Upon arrival here, we learnt that the movement of vehicles on the national highway has been halted and security forces are keeping a tight vigil on suspected movements. Security has been beefed up along all routes leading to the Pahalgam and Baltal base camps in Anantnag and Ganderbal districts respectively. Besides, internet services have also been suspended in the region with the BSNL broadband service being the sole service in operation with a certain speed. 
We were informed that  the incident took place when the bus carrying 54 pilgrims was as on its way from Baltal to Jammu. We were told that a tyre of the bus, bearing a Gujarat registration number – GJ09Z 9976 – was punctured and it took between two to two and a half hours to change the tyre. At the time of the incident, the road was busy with traffic movement. However, by the time the bus was ready to resume its journey – at around 8 PM – no yatra vehicles were allowed to ply on the road without security forces as per precautionary measures as the region is considered a stronghold of the LeT and Hizbul Mujahideen. The movement of buses and other vehicles on the route are prohibited after 7pm. Moreover, since this bus was not part of the official Amarnath Yatra tour, it did not have the escort of security forces as other vehicles do.
By the time the bus resumed its journey, it was around 8pm and the road opening party had left. Post 7pm, night patrolling party are tasked to track movements on the road. It was around 8:20pm when a group of militants opened indiscriminate firing on the bus. The terrorists had come on a motorcycle. The driver of the bus, identified as Salim Sheikh, risking his own life kept driving the vehicle for nearly 2 km and saved many lives. 
Knowing that Indian security forces are trained enough to deal with such situation, the terrorists also attacked a CRPF camp which was located just 8 km from the incident site. The motto was to keep the troops engaged in order to cause heavy damages to the pilgrims.
Salim showed the courage and kept driving the bus to the Khanabal turn where heavy security forces were present and by then, the night patrolling party had taken charge. With the help of security forces and locals, all injured were shifted to a nearby hospital for immediate medical relief. Among the deceased persons, five were from Gujarat and two were from Maharashtra.