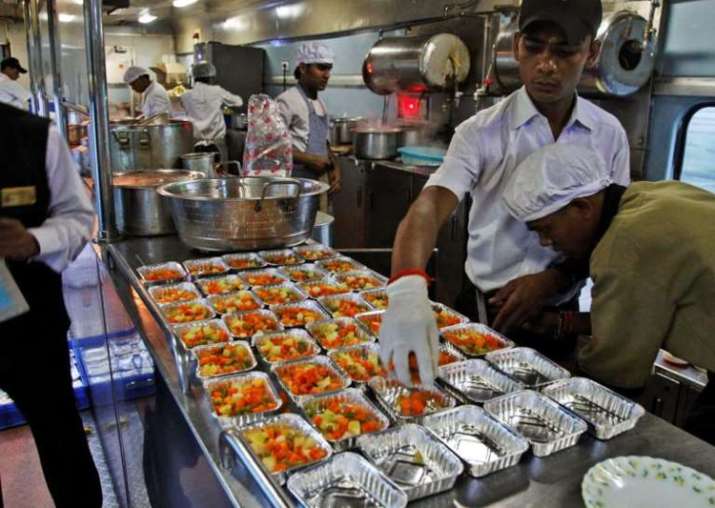 The Comptroller and Auditor General (CAG), in a report, has termed food and beverages served by Indian Railways to passengers as 'unsuitable for human consumption.' In its report, the national auditor also observed several deficiencies in food quality, adding that cleanliness and hygiene were not being maintained by the staff at catering units at stations and in trains as well.
According to a Times of India, the report said that food items, contaminated foodstuff, recycled foodstuff, packaged and bottled items past their shelf life. "Unpurified water straight from tap was used in preparation of beverages," it said. Besides, unauthorised brands of water bottles were offered for sale at stations. 
During the course of inspection, which was done by the a joint team of the CAG team and the Railways at selected 74 stations and 80 trains, it was found that waste bins were not covered, not emptied regularly and not washed. They were surprised to see that food stuff were not covered to protect them from flies, insects and dust, rats and cockroaches were found in trains etc.
Also bills and printed menu cards were not given for the food items served in trains. "Neither were bills provided to passengers for food items served in trains, nor printed menu cards with tariff for the list of items sold in the mobile units were available with waiters and catering managers in any of the trains inspected."
"Food stuff served was less than the prescribed quantity, unapproved packaged drinking water was sold," the report said. It pointed out that prices of food articles were significantly higher than the market.
The report blamed frequent changes in catering policies by Indian Railways as the key reason behind mismanagement in the services. 
"Blueprint for provision of catering services was not prepared in seven Zonal Railways," the report said.
Earlier in February, in order to upgrade quality of catering services, the Indian Railways had notified a new catering policy. The Indian Railway Catering and Tourism Corporation Limited (IRCTC) was mandated to unbundle catering services on trains by creating a distinction primarily between food preparation and food distribution.