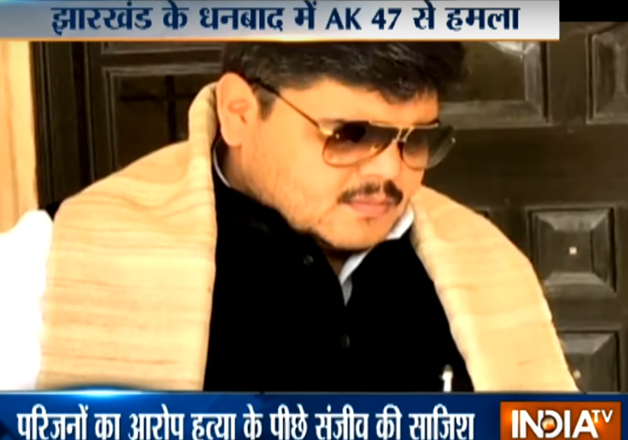 In an incident of crime that mirrors the silver screen, Neeraj Singh, former deputy mayor of Dhanbad and nephew of coal mafia leader-turned-politician Surya Deo Singh, was shot dead on Tuesday evening along with his three aides on a busy road near the city's Steel Gate area under the Saraidhela police station.
The injured were rushed to Dhanbad's central hospital where they died during the treatment. Neeraj is believed to have sustained at least 50 bullet injuries. 
The incident is being viewed as a part of bitter and violent family rivalry between BJP's Jharia MLA Sanjeev Singh and his cousin Neeraj, son of Rajan Singh, one of Surya Deo Singh's brothers.
Surya Deo is considered the 'King of Dhanbad' even after his death and his family, which still lives in Dhanbad, is recognized by locals as the 'first family of the coal city'.
Anurag Kashyap is said to have projected Suraj Deo Singh in his famous film Gangs of Wasseypur (GoW I & II). 

Surya Deo Singh's death set off a battle for supremacy and dominance between Neeraj and Sanjeev over control of the coal mining business. 
In January this year, Ranjay Singh, a close aide of Sanjeev Singh, was also shot dead. Sanjeev had alleged that Neeraj was behind the killing. 
Surya Deo's son Sanjeev Singh is the current Jharia MLA on a BJP ticket. Neeraj was a Congress leader and had unsuccessfully contested the 2014 Jharkhand Assembly elections from Jharia seat in Dhanbad district. 
Neeraj, who held the post of Dhanbad's deputy mayor between 2005 and 2015, was returning home along with his driver and two aides when motorcycle-borne assailants fired at least 50 rounds of bullets, injuring Singh and his driver, police said.
As soon as the vehicle slowed down due to speed breakers, gunmen opened indiscriminate firing at Singh's SUV. The shooting was reportedly carried out with AK-47, and Neeraj Singh seated in front of the vehicle took over 15 bullets. 
The police recovered at least 50 AK-47 bullet shells from the crime spot.
An SIT has been formed to probe the incident and police have launched a massive manhunt in Dhanbad and adjoining areas to nab the assailants. The attackers are believed to be outsiders, police said.