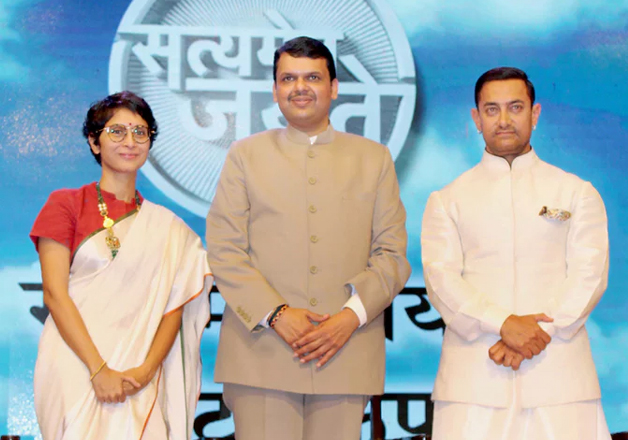 Bollywood actor Aamir Khan has said that he was working towards solving the problem of water crisis in Maharashtra and in the next five years he will make sure that the state is declared drought-free.
Speaking at 'Satyamev Jayate Water Cup Awards 2016' here on Monday, the 51-year-old actor hailed the efforts of Chief Minister Devendra Fadnavis to make the state drought-free.
"It is our dream to make Maharashtra drought-free in five years. And it is our good fortune that Maharashtra got a Chief Minister who has pledged to solve the water crisis. His political will is really strong," Aamir said.
The actor and his wife Kiran Rao, along with the team of his popular TV show 'Satyamev Jayate', have formed Paani Foundation, which works in association with the state government to find ways to end water scarcity.
The first prize worth Rs 50 lakhs went to Velu village in Koregaon tehsil. Second prize of Rs 30 lakhs was shared by Khapartone and Jaigaon villages in Ambejogai and Koregaon tehsils, respectively.
Radi Tanda in Ambejogai and Wathoda in Warud tehsils shared the third prize, carrying Rs 20 lakhs.
The competition was held from April 20 to June 5 and villages were judged by the amount of water storage they created through water harvesting methods.
Fadnavis said people's participation was of utmost importance for an initiative like this, and hailed Aamir and his team for their efforts.
"Now our 'yug dharam' is to end drought. That is our aim...A big movement of water conservation has started. I thank Aamir. He is a perfectionist not only in reel but even in real life," the CM said.
The first edition of the Water Cup was restricted to three districts. Aamir said the next phase of the Cup would hopefully involve some 30 districts.
"In round one, we worked in 3 districts. In round 2, we are hoping to go to 30 districts and use our learning of round one there," the actor said.
He was highly inspired by the overwhelming response to the competition, he said, and credited the local people for the success.
"It is inspiring to see (the result). We wanted to see if people will do this on their own because we are giving them only knowledge and training. Ultimately everything else they have to put in," Aamir added.
The drought in Maharashtra came after the region received lower rainfall during the Monsoon season. It is considered as the state's worst drought in 40 years. The worst-hit areas in the state are Solapur, Ahmednagar, Sangli, Pune, Satara, Beed, Nashik. Latur, Osmanabad, Nanded, Aurangabad, Jalna, Jalgaon and Dhule.
With PTI Inputs