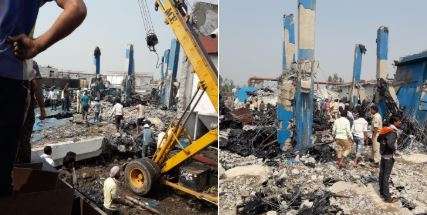 At least six people were killed and five others suffered injuries in a boiler blast at Bagalkot.
The incident occurred around noon at the distillery of Nirani Group of Industries in Kulali village of Mudhol area -- 510 km northwest of here.
According to the police, the explosion appeared to be at the safety valve of an effluent treatment plant.
Speaking to PTI, Nirani confirmed that the blast took place in one of the factories belonging to him. "The explosion happened outside our factory premises at the waste water treatment plant. There was accumulation of methane, which caused the explosion."
Visuals from Nirani sugars in Mudhol, Bagalkot where 6 people died and 5 were critically injured in a boiler blast earlier today. pic.twitter.com/PlzlwjCvkd

— ANI (@ANI) December 16, 2018