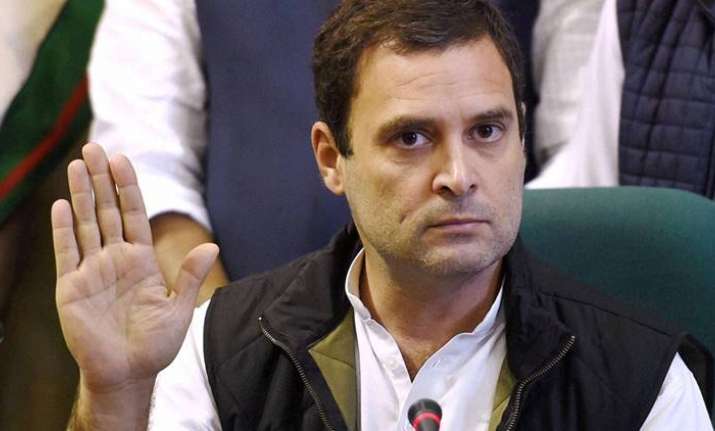 Hitting out at the BJP for the recent Banaras Hindu University (BHU) violence, Congress vice-president Rahul Gandhi on Wednesday said it is saffron party's philosophy to beat up girls.
"It is the BJP's philosophy to beat up girls demanding their rights," tweeted Gandhi.
Gandhi had earlier attacked the BJP government's 'Beti Bachao Beti Padhao' scheme over the same incident. He said this displayed BJP's version of Beti Bachao, Beti Padhao in BHU.
ALSO READ | BHU violence: Yogi Adityanath govt orders judicial inquiry into police lathicharge
A number of students, including women, and two journalists were injured in the police action in BHU where a protest on Saturday night against an alleged eve-teasing incident turned violent.
Meanwhile, the Congress has demanded a thorough inquiry into the lathicharge on women students of BHU by an all-party parliamentary panel.
In poll-bound Gujarat Rahul attacks Modi, says PM doesn't listen; GST, note ban hit economy
Earlier in the day, the Gandhi scion said that decisions like note ban and the GST roll-out were taken "without listening to anybody" and that "affected the backbone" of the country's economy.
"This is the big difference between the Congress's ideology and the BJP's ideology. The Congress listens to everyone and then implements a big decision. This government did not listen to anybody and implemented the GST and demonetisation, which affected the backbone of country's economy," Gandhi said.
"We may not have good speakers, but we have the quality of listening to people...learning about their problems, we pay attention to everyone's suggestion and then decide to implement such big decisions. This government didn't do that and implemented the GST and demonetisation," Gandhi said.
Modi's decision of scrapping high-denomination currency notes shocked even the "world's best economists" including former PM Manmohan Singh, he added.
"When I informed him about the Modi government's decision, he could not react immediately...he was shocked," Gandhi said.