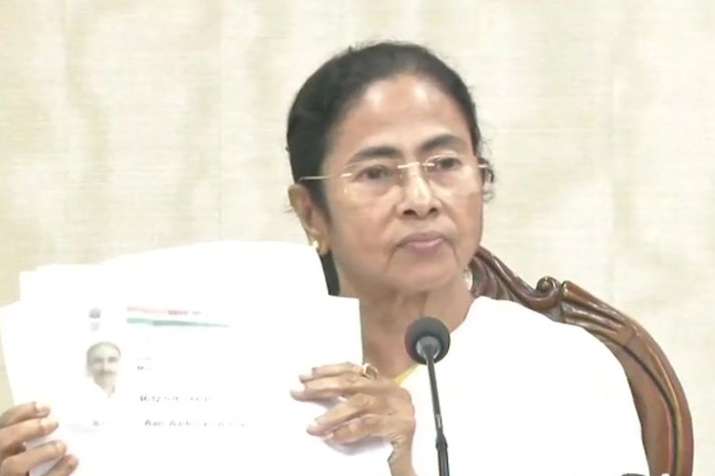 Union Home Minister Rajnath Singh's statement in Lok Sabha that there was no need to panic over the National Register of Citizens (NRC) draft released by Assam on Monday did little to pacify West Bengal CM Mamata Banerjee who warned of serious consequences. 
Slamming the BJP-led government at the Centre, Mamata Banerjee questioned whether the it was trying to evict people forcefully. Describing NRC as part of a 'gameplan', she said Bengalis, Biharis will be affected if the NRC comes into force.
"There were people who have Aaadhar cards and passports but still their names are not in the draft list. Names of people were removed on the basis of surnames also. Is the Govt trying to do forceful eviction?: West Bengal CM Mamata Banerjee said during a press conference in Kolkata.
"People are being isolated through a game plan. We are worried because people are being made refugees in their own country. It's a plan to throw out Bengali speaking people and Biharis. Consequences will be felt in our state also," Mamata said.
Referring to the NRC draft released today which excluded 40 lakh citizens, Mamata asked whether the government has any rehabilitation program for them.
"Where will the 40 lakh people whose names have been deleted go? Does Centre have any rehabilitation program for them? Ultimately it is Bengal which will suffer.Its just vote politics by BJP. Request Home Minister to bring an amendment," she said.
No need to panic, says Rajnath Singh
Earlier, speaking in Lok Sabha after the Assam government released the NRC draft, Home Minister Rajnath Singh sought to clarify that it was not the final NRC. Rajnath said attempts were being made to create an atmosphere of fear over the issue.
"Some people are unnecessarily trying to create an atmosphere of fear. I want to assure all that there is no need for any apprehension or fear. Some misinformation is also being spread. NRC process has been done impartially. Some people may not have been able to submit necessary documents. They will get full opportunity through Claims and Objections process," Rajnath said in the Lower House of Parliament.
What is NRC
The NRC draft features names, addresses and photographs of all Indian citizens, who have been residing in the north eastern state before March 25, 1971.
The NRC is being updated under the Supreme Court supervision with March 24, 1971 as the cut-off date for genuine Indian citizens in Assam.
The first draft of the ongoing NRC process was released at the midnight of December 31, 2017. It comprised 1.9 crore names out of the total application of 3.29 crore people in Assam.
WATCH: NRC draft not final list, no need to panic, says Rajnath Singh