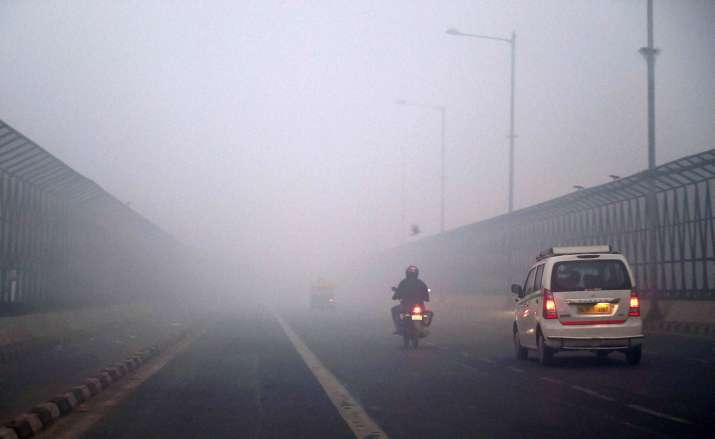 Diwali fireworks has increased pollution levels in the national capital by 21 times, the worst in three years, as it turned the air highly toxic due to a deadly cocktail of harmful repairable pollutants and gases, engulfing the city with a cover of thick smog triggering health alarms.
Alarmed with the dangerous level of air quality, the Centre has summoned governments of Punjab, Delhi, Haryana, Rajasthan and Uttar Pradesh over enforcing ban on stubble burning. 
Various monitoring agencies including Delhi Pollution Control Committee (DPCC), Central Pollution Control Board, Pune-based SAFAR and Centre for Science and Environment were unanimous about the severity of the air quality in the city.
As per the report, PM 2.5 levels on the day of Diwali (October 30) across each of the 11 pollution monitoring centres were anywhere between a staggering 4 times to 21 times of what they were the week before (October 24). 
For example, as compared to the previous week, Pitampura recorded 20.63 times higher PM 2.5 levels, while Parivesh Bhavan Centre in East Delhi recorded 11.4 times higher PM 2.5 levels. 
The permissible limit for PM 2.5 is 60 micrograms per cubic metre. Pitampura in North Delhi recorded the maximum at 1,238 micrograms per cubic metre on Diwali. 
At Janakpuri, PM 2.5 levels were 8.7 times higher and at ITO, PM 2.5 levels were 7.6 times higher. 
Similarly, on the day of Diwali PM 10 levels were 1.5-4 times higher as compared to the previous week. For example, PM 10 levels at ITO on Diwali were 4.3 times higher than what they were a week ago. 
On this Diwali, as compared to last year, PM 2.5 levels were 2-4.5 times higher and PM 10 levels were 1.5-3 times higher. 
Prolonged exposure to PM 2.5 and PM 10 beyond the safe limits can harm the respiratory system as the ultra fine particulates can find their way deep into the lungs and also enter the bloodstream.
In the morning, the city woke up to the season's worst air quality as smoke from Diwali fireworks, coupled with moisture and nearly stagnant wind movement, shrouded the city in a thick cover of smog. Commuters in several areas found it difficult to find their way as the visibility level plunged to nearly zero in several areas.
SAFAR, an agency of Earth Sciences Ministry, said air quality was not only severe but plunged to its worst in three years during Diwali mainly due to low wind movement and falling boundary layer, that traps pollutants close to the surface. The most critically polluted period was between 11 PM on October 30 and 10 AM today.
The volume of sulphur dioxide (SO2), which can aggravate asthma, also breached the safe standards, indicating that the crackers contained a high level of sulphur. It averaged between 20-131 ug/m3 while it was between 26-64 ug/m3 last year.
The Environment Ministry has attributed the spike in pollution levels to four main factors. 
"It has been observed that open burning of solid waste in and around Delhi, vehicular emissions in Delhi, dust by the roadside and around construction sites in Delhi and stubble burning of crop residue in neighbouring states of Delhi are major contributors to pollution in Delhi," according to a release by the Ministry. 
Accordingly, five states -- Punjab, Harayna, Delhi, UP, Rajasthan -- have been summoned in order to ensure effective enforcement of the ban on stubble burning. 
"The Ministry of Environment, Forest and Climate Change has summoned the concerned secretaries on 4th November to review the situation and to further deliberate on the strategy to minimise occurrences of open burning in agriculture fields," according to the press statement. 
It has also been decided that CPCB will direct local bodies in and around Delhi to check open burning of solid waste and strictly enforce rules related to prevention of gaseous emission from construction activities. 
CPCB will also instruct public road owning agencies in Delhi to ensure that roadsides are watered periodically suspension of dust. 
Delhi Police, too, will be required to streamline movement of traffic at busy intersections so that pollution due to vehicular emissions is minimised.