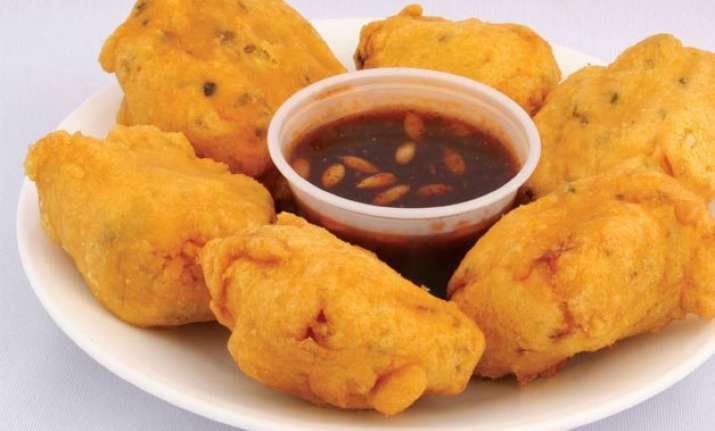 It's monsoon time and we may not have the time to get drenched in rain, but there is something which we still enjoy about monsoon, i.e, the spicy appetisers to sooth our taste buds.
While the list of monsoon delicacies is long enough, there are some snacks, which are an all time favourite of all and one such snack is 'pakoras'.
There are different variations of pakoras that give it a varied taste- be it the pyaaz ka pakora, gobhi pakora, vegetable pakora, aaloo pakora and even bread pakora.
But here we bring to you the simple recipe of paneer pakora with a blend of corn in it, which will make the monsoon much enjoyable for your family.
Ingredients:
Besan, paneer, corn, chopped ginger, chopped garlic, chopped green chilli, milk, chopped coriander, cumin powder, amchur, chopped onion and salt
Method:
1. Take 200 gms of corn and crush it in a blender. Also take 100 gms of paneer and grate it.
2. Take some oil in a pan and add 2 tsp of chopped ginger along with 2 tsp of chopped garlic and sauté it for a while.
3. Now add the crushed corn and sauté it as you add salt as per taste. Mix it well.
4. Add 1 cup of milk to the mixture and stir it in order to make a creamy mixture.
5. Transfer the mixture in a dish once the corn is cooked properly and allow it cool.
6. Now take 1 chopped onion, 2 chopped green chillies, ½ cumin (jeera) powder, 1 ¾ amchur and 2 tbsp of chopped coriander leaves, salt as per taste and mix them in the grated paneer.   
7. Take the paneer mixture along with the cooled milk mixture and mix them well.
8. Now add 6tbsp of besan and blend it properly for binding. Use some milk if the mixture gets thick and make round balls with your hands.
9. Deep fry the pakoras till they turn golden brown.  
10. Remove and keep on an absorbent paper to soak excess oil.
Paneer corn pakora is ready to be served. Serve it with green chutney or ketchup.