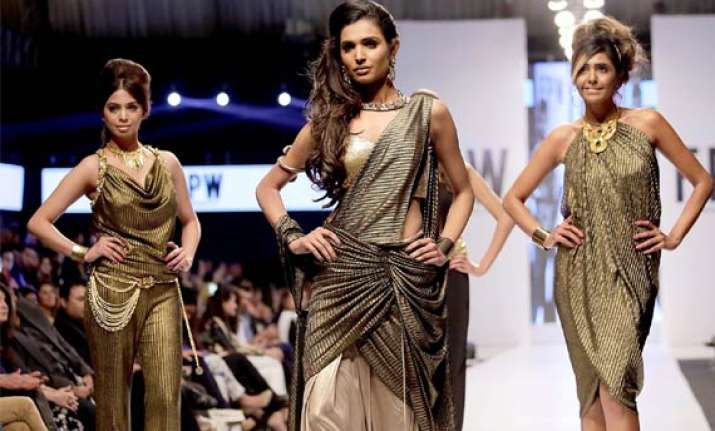 Lahore: Saree is known worldwide for its elegance and sensuality. Taking inspiration by this six-yard wonder, designer Shehla Chatoor's collection on the day two of PFDC (Pakistan Fashion Design Council) Sunsilk Fashion Week 2014 looked a strong attempt to reinvent saree and make it an edgy silhouette.
The four-day fashion event started here Thursday. 
"We reinvented saree with an aim to transcribe a quintessentially eastern garb onto an edgy, unorthodox silhouette. These pre-draped sarees are a playful fresh take on an age-old ensemble that can easily add drama to the red carpets of today," she said. 
Her collection was titled "Samsara", and showcased the circle of fashion where new trends are born and fade away, giving way to birth of new trends. 
The designs represented the bold and confident Pakistani woman, who wants versatility in her dressing style according to occasions. Be it for dinners, cocktails or for red carpet events. 
Apart from pre-draped sarees, the designer also played beautifully with metal accents that were engrossed well on traditional embroidery in order to update an age-old tradition. 
The collection is embellished with elegant and lavish motifs including calligraphy, paisleys, florals and bold linear graphics that gave an edge and boldness to the entire range that varied from trousers, dresses, kaftans to jackets. 
Through this current collection, Chatoor also aimed to further her precept of creating a complete look by venturing into jewellery which compliments her clothing and an accessories line which features clothes, bags, shoes and jewellery in tow. 
Ever since its inception 19 years ago, the brand has been synonymous with elegance and finesse. 
Stitching and embroidery techniques such as gara, marori, mukesh and zardozi, are all employed in Shehla's eastern collections. On the other hand, the western wear is more contemporary, bold, cutting edge and glamorous.