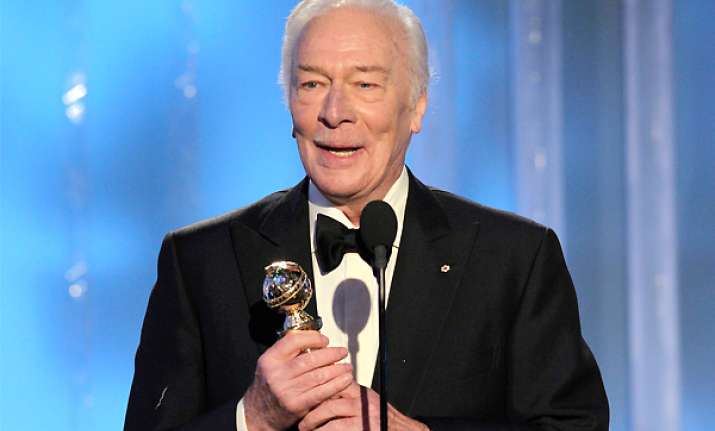 Beverly Hills, Jan 16: Christopher Plummer has won the supporting-actor Golden Globe for his role as an elderly widower who comes out as gay in the father-son drama "Beginners."

Claiming the first prize of the night at Sunday's Globes may give the 82-year-old Plummer the inside track for the same prize at next month's Academy Awards.

"I must praise my distinguished competitors, who whom I have the greatest admiration and to whom I apologize most profusely," said Plummer, who added warm regards to "Beginners" star and Scottish actor Ewan McGregor. "I want to salute my partner, Ewan, that wily Scot, Ewan 'My Heart's in the Highlands' McGregor, that scene-stealing swine from the outer Hebrides."

Oscar consideration has been elusive for Plummer, who has been nominated for Hollywood's top honor only once in his 60-year career—two years ago, for the Leo Tolstoy drama "The Last Station."

Plummer is regarded as one of the finest Shakespearean stage actors of the last half century. His film roles range from Austrian widower Captain von Trapp in "The Sound of Music" and Tolstoy in "The Last Station" to newsman Mike Wallace in "The Insider" and a treacherous Klingon general in "Star Trek: The Undiscovered Country." He also co-starred in the current thriller "The Girl with the Dragon Tattoo."

Ricky Gervais, who has ruffled feathers at past shows with sharp wisecracks aimed at Hollywood's elite and the Globes show itself, returned as host for the third-straight year. He started with some slams at the Globes as Hollywood's second-biggest film ceremony, after the Oscars.

The British comedian joked that the Globes "are just like the Oscars, but without all that esteem. The Globes are to the Oscars what Kim Kardashian is to Kate Middleton. A bit louder, a bit trashier, a bit drunker and more easily bought. Allegedly. Nothing's been proved."

He also needled early winners, saying the show was running long and stars needed to keep their speeches short.

"You don't need to thank everyone you've ever met or members of your family, who have done nothing," Gervais said. "Just the main two. Your agent and God."

The black-and-white silent film "The Artist," which led the Globes with six nominations, won its first prize of the evening, best musical score for composer Ludovic Bource.

Bource apologized for his halting English, saying, "I'm sorry, I'm French," adding that he's better with music than words.

"Right now, if I were to write a song, it would be a tap-dance number," Bource said. "The power of music is at least universal. The gift of the silent film is that it is so universal."

Madonna, Julie Frost and Jimmy Harry won the Globe for best song for "Masterpiece" from the King Edward-Wallis Simpson drama "W.E.", which Madonna also directed.

Among early television winners were Britain's Kate Winslet as best actress in a miniseries or movie in "Mildred Pierce,"Idris Elba as best actor in a miniseries or movie in "Luther," Laura Dern as comedy or musical actress in "Enlightened," Kelsey Grammer as dramatic actor in "Boss," "Homeland" for drama series and British series "Downton Abbey" for miniseries or movie.

A drama with comic touches, "Beginners" was a fitting recipient to start the Globe ceremony, which has a strong lineup of lighter fare to match the more sober-minded films that generally dominate Hollywood awards.

Alongside those heavyweight dramas, the category for best musical or comedy at the Globes usually is more of a lark, with nominees rarely emerging with best-picture prospects at the Academy Awards.

Yet Sunday's musical or comedy contenders made up a strong bunch that could give their best-drama cousins at the Globes a run for their money come Oscar time.

Among the six nominations for "The Artist" were best musical or comedy, directing and writing honors for Michel Hazanavicius, and acting slots for Jean Dujardin and Berenice Bejo.

Tied for second with five nominations each are the Deep South tale "The Help" and George Clooney's Hawaiian family story "The Descendants," both of them among best-drama contenders.

With the Oscars choosing up to 10 best-picture contenders when nominations come out Jan. 24, "The Artist" could have some other comic company there. Globe musical or comedy nominees "Midnight in Paris" and "Bridesmaids" also have solid Oscar nomination prospects.

Most years, the musical or comedy category is filled with nominees that have little or no chance at the Oscars, such as last year's Globe nominees "The Tourist" and "Burlesque." The last time a musical or comedy Globe winner earned the best-picture Oscar was nine years ago, when "Chicago" triumphed at both shows.

This time, the dual categories at the Globes could create an Oscar showdown between the dramatic and musical-comedy winners.

Along with "The Artist," Kristen Wiig's wedding romp "Bridesmaids" and Woody Allen's romantic fantasy "Midnight in Paris," Globe nominees for best musical or comedy are Joseph Gordon-Levitt's cancer tale "50/50" and Michelle Williams' Marilyn Monroe story "My Week with Marilyn."

Besides "The Descendants" and "The Help," best-drama contenders are Martin Scorsese's Paris adventure "Hugo," Clooney's political thriller "The Ides of March," Brad Pitt's sports tale "Moneyball" and Steven Spielberg's World War I epic "War Horse."

Presented by the Hollywood Foreign Press Association, a group of 89 entertainment reporters for overseas outlets, the Globes used to have a strong record predicting the films that would go on to win best-picture at the Oscars. But lately, a best-picture win at the Globes has not translated into victory on Oscar night.

Over the last seven years, only one Globe best-picture winner -- 2008's "Slumdog Millionaire"—has gone on to claim the top Oscar trophy. Before that stretch, the Globes had been on an eight-year streak in which one of its two best-picture recipients also won the main prize at the Academy Awards.

Last year, "The Social Network" won best-drama at the Globes and looked like the early Oscar favorite. But momentum later swung to eventual Oscar best-picture winner "The King's Speech." The year before, "Avatar" was named best drama at the Globes, while "The Hurt Locker" took best picture at the Oscars.

The Globes have a better track record predicting who will win Oscars for acting. A year ago, all four actors who won Oscars earned Globes first—lead players Colin Firth for "The King's Speech" and Natalie Portman for "Black Swan" and "The Fighter" supporting stars Christian Bale and Melissa Leo.

This time, "The Help" leads the acting categories with three nominations, for Viola Davis, Octavia Spencer and Jessica Chastain. Along with Clooney, Pitt and Williams, other nominees include Meryl Streep for the Margaret Thatcher story "The Iron Lady," Leonardo DiCaprio for the J. Edgar Hoover biography "J. Edgar" and Glenn Close and Janet McTeer for the Irish drama "Albert Nobbs."

Ryan Gosling has two nominations, as dramatic actor for "The Ides of March" and actor in a musical or comedy for the romance "Crazy, Stupid, Love."

Morgan Freeman will receive the Globes' Cecil B. DeMille award for lifetime achievement at Sunday's Beverly Hilton Hotel ceremony.
Winners of the 69th annual Golden Globe Awards, announced Sunday in Beverly Hills, Calif.:

MOTION PICTURES
-- Actress, Musical or Comedy: Michelle Williams, "My Week With Marilyn."
-- Supporting Actor: Christopher Plummer, "Beginners."
-- Original Score: Ludovic Bource, "The Artist."
-- Original Song: "Masterpiece" (music and lyrics by Madonna, Julie Frost, Jimmy Harry), "W.E."

TELEVISION
-- Series, Drama: "Homeland," Showtime.
-- Actor, Drama: Kelsey Grammer, "Boss."
-- Actress, Musical or Comedy: Laura Dern, "Enlightened."
-- Miniseries or Movie: "Downton Abbey (Masterpiece)," PBS.
-- Actress, Miniseries or Movie: Kate Winslet, "Mildred Pierce."
-- Actor, Miniseries or Movie: Idris Elba, "Luther."