Follow us on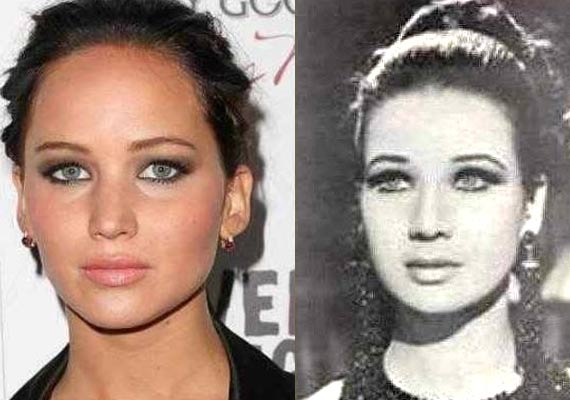 New Delhi: These people may be famous today, but they definitely look like famous people of the past. Surprised? Don't be.
There are many topmost celebrities in Hollywood who resembles with some of the most famous personalities of past.
Not many people believe in the concept of reincarnation but these pictures will surely give some flame to your believe on re-birth. Facial resemblance
Hollywood stars and Bollywood glitterati's are very common, but the latest but resemblance with Egyptian actress  and Pope IV is something news
Take a look at the pictures which will take your breath away.
1. 
Jennifier Lawerence and her Egyptian twin-actress Zubaida Tharwat
- Zubaida Tharwat was born in Alexandria in 1940.
 As a teenager she won a beauty contest in a teen magazine, which widely published her photograph and got her the attention of directors and producers.
 She made her brief first appearance in the 1956 film Dalila alongside stars of the day Shadia and Abdel Halim Hafez.
She went on to work in many other films with other famous actors such as Rushdy Abaza, Fatin Abdel Wahab, Youssef Wahbi, Kamal el-Shennawi, Soad Hosny and Omar Sharif. She retired from acting in the late 80s.
 During her career she was given many nicknames such as The Pussycat of Arab Cinema, Magic Eyes and The Queen of Romance. 
 2.
Orlando Bloom and Nicolae Grigorescu
- Nicolae Grigorescu was one of the founders of modern Romanian paintings.
 He was also a writer. He was born in Pitaru, Dambovita County, Wallachia.  At a young age, he became an apprentice at the workshop of the painter Anton Chladek and created icons for the church of Baicoi and the monastery of Caldaruşani.
In 1856 he created the historical composition Mihai scapand stindardul which he presented to the Wallachian Prince Barbu Ştirbei, together with a petition asking for financial aid for his studies.
 3.
Leonardo DiCaprio and Judy Zipper
-A tumblr user posted a picture of a woman called "Judy Zipper", apparently taken from his/her grandmother's 1960 high school yearbook.
Judy Zipper was a common lady at the time of 1960s.
4. 
Justin Timberlake and this old time criminal
- Justin Timberlake looks like an old time criminal of 1940s.  
5.
Sylvester Stallone and Pope Gregory IX
-  Pope Gregory IX was Pope from 19 March 1227 to his death in 1241.
 He is known for instituting the Papal Inquisition, a mechanism that severely punished people accused of heresy, in response to the failures of the Episcopal inquisitions established during the time of Pope Lucius III through his papal bull Ad abolendam issued in 1184.
 The successor of Pope Honorius III, he fully inherited the traditions of Pope Gregory VII and of his cousin Pope Innocent III, and zealously continued their policy of Papal supremacy.