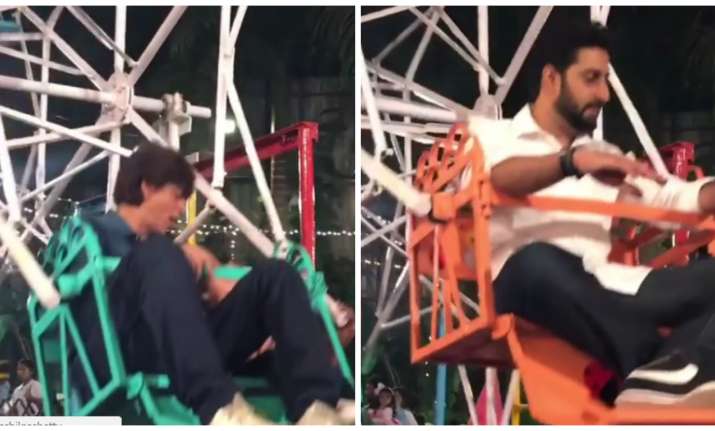 Abhishek Bachchan and Aishwarya Rai Bachchan's li'l princess Aaradhya Bachchan turned six on November 16 and the family decided to have a simple dinner party with close friends and family on that day. However, the party was due and it was sure to be a grand one. The Bachchans finally threw birthday bash for Bollywood kids and biggies. Celebrities like Shah Rukh Khan, Aamir Khan, Shilpa Shetty, Farah Khan,etc attended the party with their munchkins.
The superstars were spotted arriving at the party with their little ones and it looked like a good get together of all li'l stars under one roof. We were left wondering how the party would be like but thanks to Shilpa Shetty who gave us a sneak peek into the bash. All the kids including Shah Rukh and Abhishek Bachchan had a gala time at Aaradhya's birthday party. SRK and Junior B, kids? Well, Shilpa shared a video on Instagram where Abhishek and SRK can be seen taking ride on a mini giant wheel with childlike fun. While King Khan was with his son Abram, Abhishek was enjoying alone. The actress captioned the video, ''Ha ha ha .. proof! Priceless so adorable ''Giants" on the wheel!''
Shilpa also shared a snap in which we can see her son Viaan, Aishwarya and Aaradhya. We have to say the photograph is just too adorable. ''Bunt Moms" or should I say Bunt "Bombs'' Even the grownups had such a great time ( I have proof!),'' she captioned the picture.
At the party, Aaradhya and Aishwarya were twinning in beautiful gowns. While Aaradhya wore pink frock, Aishwarya looked pretty in a peach ensemble. Here are other pictures: