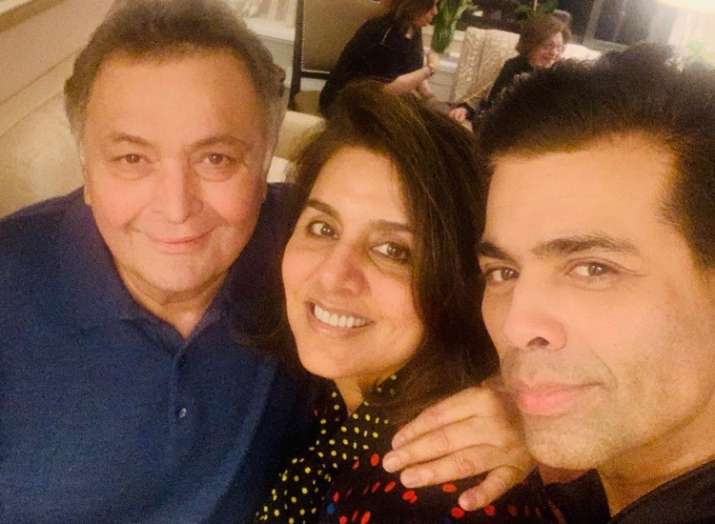 Karan Johar follows what Deepika Padukone started. A few days ago Deepika Padukone visited Rishi Kapoor to check on him as he is in New York for medical treatment. Following Deepika Padukone, Vicky Kaushal too visited Rishi Kapoor as the actor was in the States for the shoot of his upcoming movie Udham Singh. Now, Karan Johar who shares a special bond with the 'KAPOOR FAMILY', visited Rishi Kapoor and Neetu Kapoor.  
Not just thiese celebs, even Mukesh Ambani and Neeta Ambani, Alia Bhatt, Shah Rukh Khan, Aamir Khan and many more celebs dropped by to check on Rishi Kapoor's health. Well, this is such a warm gesture. Rishi Kapoor was last seen in a web movie Rajma Chawal. He has his fans across the world who wish and pray for his speedy recovery. 
Karan Johar took to his social media account and shared a picture with Rishi Kapoor and Neetu Kapoor. His caption reads, "My absolutely favourite couple of Indian cinema....I grew up loving them and am so privileged to know them....strong...resilient and full of positivity! @neetu54 and chintuji are absolutely amazing and so full of love!! Thank you for your energy! Love you!!!"
In fact, Neetu Kapoor also shared a note to thank Karan. Her caption reads as "He gave the tightestttt Hug and the longesttt kiss n said half of this love is from his mom Hiroo sometimes simple words mean so big love love him #karanjohar #fulloflove#lotsoffun"
Rishi Kapoor is undergoing cancer treatment in New York. However, according to Rishi Kapoor's recent interview, he is free from cancer and will soon be back to India.