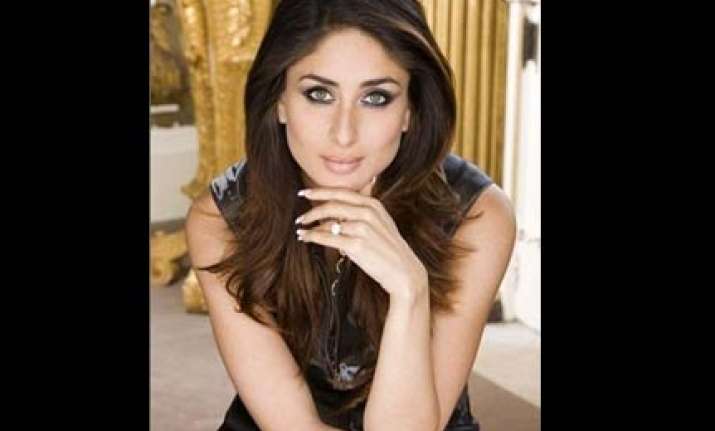 Bollywood actor Kareena Kapoor is the hot favourite with all Khans in Bollywood, be it Aamir, SRK, Salman or even Saif.
The latest film that Kareena is doing is Shah Rukh Khan's ambitious sci-fi home production Ra.One . Her teaming with Aamir Khan in 3 Idiots has created history at the box-office and splendid chemistry onscreen. Needless to say, Saif Ali Khan is all Kurbaan over ladylove Kareena, says a media report. And though her film Main Aurr Mrs Khanna with Salman Khan couldn't create any magic, they share a great rapport off the screen.
Perhaps Kareena Kapoor is the only actress today who is close to each of the Khans and the Khans reciprocate their love for her with as much warmth. Like the actress confesses, "Is it wrong to love three Khans at the same time. If it is then I am guilty of that. I have chosen the safest Khan (Saif Ali Khan) for my personal life. I am great friends with Aamir Khan. Shah Rukh Khan is like family. And my sister (Karisma) loves Salman Khan".
Her first Khan costar was Shah Rukh with whom she was romantically paired in Asoka and soon after relatively paired (as sister-in-law) in Kabhi Khushie Kabhi Ghum . So good was their equation that Kareena never refused SRK when he wanted her even for cameo or item numbers in films like Don, Om Shanti Om or Billu . No wonder for his next big film Ra.One SRK has roped in Kareena Kapoor as the leading lady over names like Katrina Kaif and Aishwarya Rai.
"Shah Rukh Khan is my idol. I am happy to start 2010 working with my idol, Shah Rukh Khan, with whom I'm traveling to Miami for Ra.One ", says Kareena.
Saif and Kareena are hailed as the Brad Pitt and Angelina Jolie of India, but Saif thinks otherwise. "I think we are much cooler. We are Saif and Kareena of the world, not the Brad and Angelina of India," he grins.
"We have been open about our relationship and that's why we are the hottest couple", says Kareena. "If we get married now there will be no curiosity. We are enjoying all the attention and are used to news about us getting married and breaking up all the time. Whenever we get married, we will let the world know about it."
Filmmakers are falling over each other to sign them together. They look awesome on the screen with their real life chemistry extending on to reel life and together they double up their brand value as well.
Next they will be seen in the spy drama Agent Vinod where Saif and Kareena are pitted against each other! "2010 has a lot of promise. I'm going to be traipsing the globe with Saif in Agent Vinod ", says Kareena.
Aamir Khan and Kareena Kapoor seem to have formed a mutual admiration society. While Aamir describes Kareena as 'so gorgeous that one can keep staring at her and never get tired', Kareena describes Aamir as the 'Emperor of cinema'.
"I've always admired Kareena as an actor and have always wanted to work with her", says Aamir who almost came close to be paired opposite Kareena in two films before 3 Idiots , one with Vishal Bhardwaj and another with Mani Ratnam. "Kareena is outstanding, an instinctive actress, extremely committed, a team player", says Aamir.
Aamir made waves when he locked lips with Kareena's elder sister, Karisma Kapoor in Raja Hindustani . "But I'm much more pally with Kareena," he admits, "Though both are talented, Kareena is very warm and easy to get along with". Interestingly Aamir is the only Khan other than Saif who has smooched Kareena onscreen.
The two have expressed desire to work again in a love story sometime soon. "I don't know when that'll happen", admits Kareena. "But I'm glad I got to do at least one film with Aamir. It's an achievement that I want my kids to know about".
Right from their first onscreen pairing in Kyon Ki , Kareena always maintained that she was awed by Salman Khan and though they were to romance in the film, she saw him as an elderly figure, someone who was a big hit with her elder sister Karisma Kapoor.
"Salman has always been very protective. He has been there for me whenever I needed him. That's partly to do with the fact that my sister Karisma is very close friends with Salman and also his favourite co-star," says Kareena.
In between cracks in the Kareena-Salman friendship developed when Salman had differences with Shahid Kapur during the Rock Star concert in 2006. Since Kareena and Shahid were romantically involved then, Kareena's relationship with Salman too hit troubled waters.
But the ice finally broke in Panchgani in early 2009 where Salman and Kareena were shooting for Main Aurr Mrs Khanna when Saif (who was now dating Kareena and is a good friend of Salman) played mediator.
The bonding only became better and in recent times Salman went out of his way and gifted a Dolce and Gabbana bag worth Rs. 2.5 lakhs to Kareena Kapoor when they went shopping together in Australia