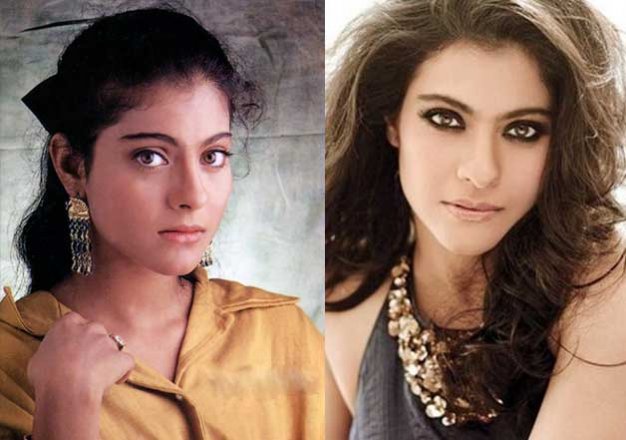 New Delhi: Kajol, today, stands in the list of the most talented and critically acclaimed actresses in the Bollywood. She is still remembered as DDLJ's Simran, solely due to her eccentric acting talent.
Born on 5 August 1974 to actress Tanuja and film director Shomu Mukherjee, Kajol, however, was never mesmerized by the glitter of the glamour industry. But, as they say destiny mends ways and today Kajol has established herself as one of the most successful female actors.
Kajol's transformation or journey from a girl-next door to one of the most beautiful and gorgeous actress in Bollywood is magical. She started her career in 1992 from Bekhudi at 18 years of age and today in 2015, the actress looks ravishing as ever in Dilwale at 41.
Here's a look at her 23 years of career in B-town and some unknown facts about her.
1. Kajol's love for 9 to 6 Job
Kajol is one such actress whose roots in the film industry are established from the last four generations. But, despite of being from such a filmy background Kajol was never interested in entering the film industry.
Kajol herself revealed how she always saw her mom and grand father working so hard, but she never wanted to do such 'hard work'.  She wanted to be in a 9 to 6 job and get a lump sum at the end of the month.
2. Accidental Portfolio
Kajol accompanied her cousin Mayuri for the portfolio shoot when Make up Guru Miki Contractor asked Kajol to also get her photoshoot done. But Kajol denied as she was never interested.
Then, Miki talked to her mother Tanuja, who was ok with it, and somehow convinced Kajol to get her pictures clicked.
3. First Role at 16 years of age
Director Rahul Rawail saw Kajol's photographs and approached her for a role in his new project Bekhudi. And that's how filmy career started for the dusky beauty. Kajol was mere 16 years of age and was studying in school when she got a break in Bollywood.
Her movie Bekhudi released in 1992. Now, today after 23 years, Kajol is still ruling the silver screen with her enigmatic charisma.
4. Kajol's Unibrow
Joined eyebrows are Kajol's unique facial feature which attracts many. But in 1992, they were not cool and during the portfolio shoot the team was thinking of removing the brow from middle. But, Miki Contractor convinced everyone that unibrow is her individuality and shouldn't be removed. Thanks to him, industry got a beautiful and unique face.
5. Kajol's family in Bollywood
Kajol's family has been into Bollywood since four generations. Her maternal grandmother, Shobhna Samarth, and great grandmother, Rattan Bai, were both involved in Hindi cinema.
Her maternal aunt was actress Nutan while her younger sister Tanishaa Mukherjee is also an actress. Kajol's cousins Rani Mukerji, Sharbani Mukherjee and Mohnish Behl are also Bollywood actors.