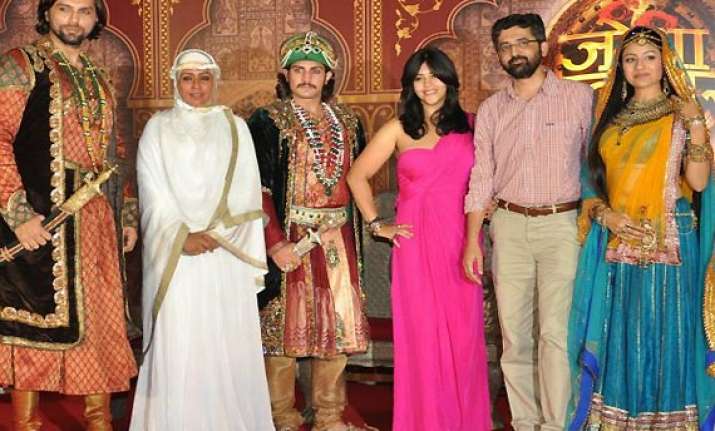 New Delhi: Hundreds of members of Rajput community today staged a protest  against a TV serial Jodhaa Akbar, which they alleged depicted their community in a poor light.
Police resorted to baton charge and sprayed water cannon at violent protesters trying to break through barricades at Jantar Mantar.
Two of the protesters were injured in baton charge and taken to hospital. 
Vedpal Tanwar  of Rajput community  alleged the TV industry was plotting to malign their community.
"We were protesting against the television serial Jodha-Akbar, and the New Delhi administration violently ordered baton charge on the demonstrators; it was intolerable"  said  Tanwar. 
After a series of similar protests in other cities, producer of the TV serial, Ekta Kapoor  has said the serial would be amended by changing its name and character. 
The Rajput community is demanding ban on the TV serial.
Sri Rajput Karni Sena (SRKS) has been holding held protest demonstrations for demanding the withdrawal of the TV serial.
Ekta Kapoor, who is the producer of the serial,  flew to Jaipur to hold talks with SRKS' convener Lokendra Singh Kalvi.
"We are committed to the fact that no caste, community or religions will be shown in bad light by us. We can not stop the serial Jodhaa Akbar as Zee is also a party to it, and there are certain contractual obligations among ourselves and third parties", Kapoor said.
"As a producer of the serial we will consider to change the name of show and character's name.
" We have discussed the issue with SRKS now, if their (SRKS) demand is not met...I openly say at public forum that there would be no Balaji's involvement in the said TV serial.
"I will abide my decision in future too. If I have hurt any religion or community whether Rajput or any other caste... I am apologizing for it, " Kapoor said.
SRKS had claimed that the period drama had "distorted" the history of the Rajputs.
"The character Jodhaa, as depicted in the serial, had never existed in Rajput history of Rajasthan nor with Akbar," Kalvi said.