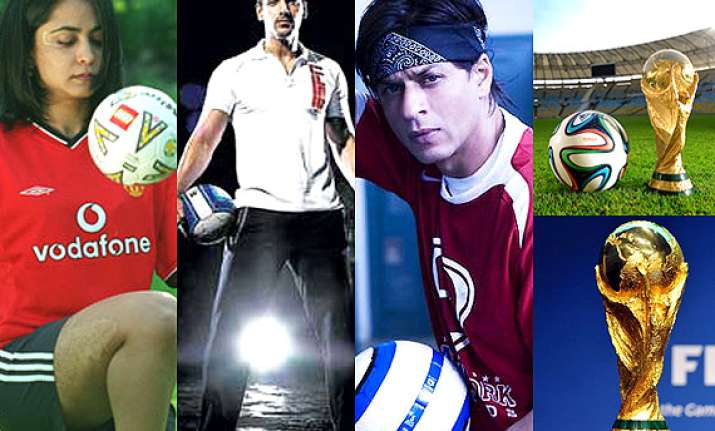 New Delhi, With just few hours to go before world's biggest football tournament FIFA world cup 2014 kicks off, we can see how people are getting gripped by World Cup fever.
Being an Indian it is obvious for us to be expert on two topics: Movies and cricket. But since its 'FIFA' let's keep cricket aside and focus on football. The splendid hues of football can be seen all over of the world.
Lionel Messi and Cristiano Ronaldo are the heroes on football ground but John Abraham and Parminder Nagra are our Bollywood 'footballer' heroes.
The restaurants are set with special FIFA cuisines, we can see different T-shirts with player's name, and India is all set to enjoy the spectacular game of football for complete one month.
When the entire world is drenched in the colours of FIFA world cup, why should we Indians be left behind? Let's enjoy the FIFA in our own 'desi' style.
Since, we Indians are obsessed with Bollywood movies, then here's a look at different Indian movies that are based on football.
Bend it Like Beckham
- 'Bend It Like Beckham' is a comedy-drama film starring Parminder Nagra, Keira Knightley, Jonathan Rhys-Meyers, Anupam Kher, Shaznay Lewis, and Archie Panjabi, first released in the United Kingdom.
 The film was directed by Gurinder Chadha. Its title refers to the football player David Beckham and his skill at scoring from free kicks by bending the ball past a wall of defenders.