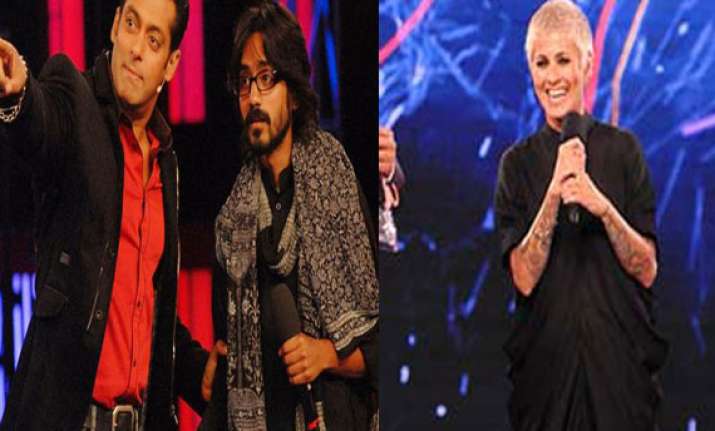 Mumbai : IAC activist and  cartoonist Aseem Trivedi, who was evicted from the 'Bigg Boss 6' house on Friday,  has alleged that Salman Khan misbehaved with  celebrity hair stylist Sapna Bhavnani  inside the Bigg Boss house.
Trivedi said, "Salman Khan misbehaved with Sapna. When he overstepped the line of decency, she obviously retaliated.
"But then, any self-respecting individual would have done the same thing.
"I and Sapna were constantly talking about corruption and women`s empowerment inside the house, but after coming out, I was zapped to learn that none of those things were telecast. Even Sapna`s comments on Salman were edited.
"When she comes out, she will be so upset that she wasted so much of time for nothing. These guys lied to us. We were told - `you will not have to do any naach gana and you will just have to put forth your views on revolution, society and corruption.` But it was all humbug!"
Last week,  hair-stylist Sapna Bhavnani accused Salman Khan of being a "serial woman-beater". Her comments were edited out from the telecast.
Sapna Bhavnani, one of the 15 contestants in Bigg Boss 6 reality show, alleged that Salman Khan used to beat up women and was a serial woman-beater.
Bhavnani even used offensive abuses while making comments about Salman Khan.  All these comments have been edited from the show telecast, sources said
"If I win Bigg Boss, I will buy one of Salman's paintings, and gift it to him", said Bhavnani.
On Friday, Salman as Bigg Boss had pulled up Bhavnani badly, and later smilingly said he was joking.
The pent up rage inside Sapna Bhavnani burst in the open, when she made the offensive remarks about the superstar.
Sapna Bhavnani owns  the Mad-0-Wat salon in Bandra and her celebrity clientele includes M S Dhoni, Virat Kohli, Siddharth Mallya and John Abraham.