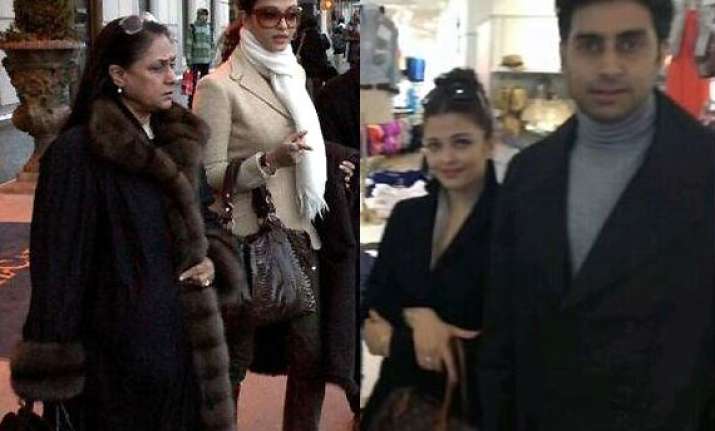 Aishwarya Rai Bachchan had been beaming high ever since she was joined by hubby Abhishek Bachchan in London before heading out to an exotic European Holiday along with their darling daughter Aardhaya Bachchan.
But it seems, the Bachchan bahu has gone ahead to bury the rumoured hatchet with mommy-in-law Jaya Bachchan, who along with daughter Shweta Nanda also joined the Bachchan junior couple on their holiday trip.
If reports are to be believed then, all was not too well a while ago between the saas-bahu Jaya Bachchan and Aishwarya Rai Bachchan. Aishwarya who's on a spree to promote a charity event in association with the NGO, 'Smile Train', decided that after her hectic Cannes event she needed a break with her loving family.
The Bachchan bahu instead of heading out home, stayed in London where she was first joined by hubby Abhishek Bachchan. Later the couple was joined in by Jaya Bachchan and her daughter Shweta Nanda with her son Agastya.
The only one missing is Amitabh Bachchan who was recently spotted attending the launch of Dilip Kumar's autobiography event.