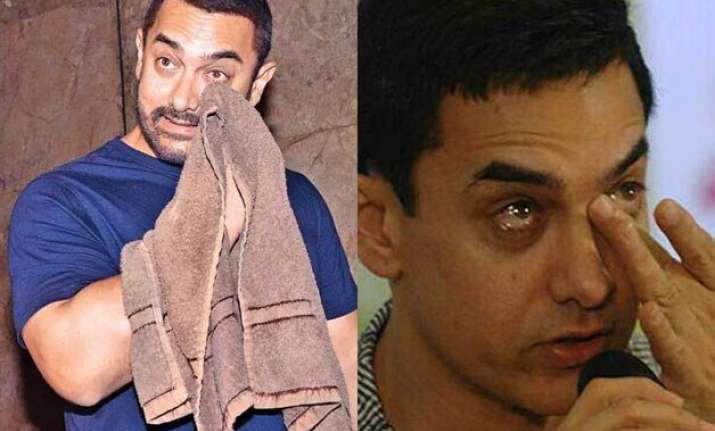 New Delhi: Actor Aamir Khan is the recent victim of the Twitterati who just can't stop making fun of the fact that he cried after watching his nephew Imran Khan's movie 'Katti Batti.' The movie which is directed by Nikhil Advani also stars Kangana Ranaut.
The story goes like this. At a special screening of 'Katti Batti', Aamir Khan bawled like a baby. According to Nikhil, the last 22 minutes of the movie were very emotional. "It's a tearjerker. The last 22 minutes I literally had to sit and hold the tissue box for Aamir. He has copious tears! And he was crying and crying and crying. And I was so happy."
Aamir Khan's tears made him trend on Twitter. After this revelation, Twitter went berserk over the concept that Aamir Khan cries. Like really cries. Aamir Khan has been seen shedding tears quite a few times, whether it was his show Satyamev Jayate, where a story by a common man forced his emotions out, or the story of Pawan Kumar Chaturvedi (Salman Khan) in 'Bajrangi Bhaijaan' where his tears after the movie made it to the headlines.
But unlike other times when the masses sympathised with his tears, they took a harsh road this time. Aamir Khan, as a handle, is trending on Twitter with people making fun of him. Not long ago, at her book launch Twinkle Khanna told the audiences that during some movies, her husband Akshay Kumar cries like Aamir Khan. This definitely proves that Aamir crying is legendary in Bollywood.
Although all is in good humour, Mr. Perfectionist, here are some tweets that will crack you up.