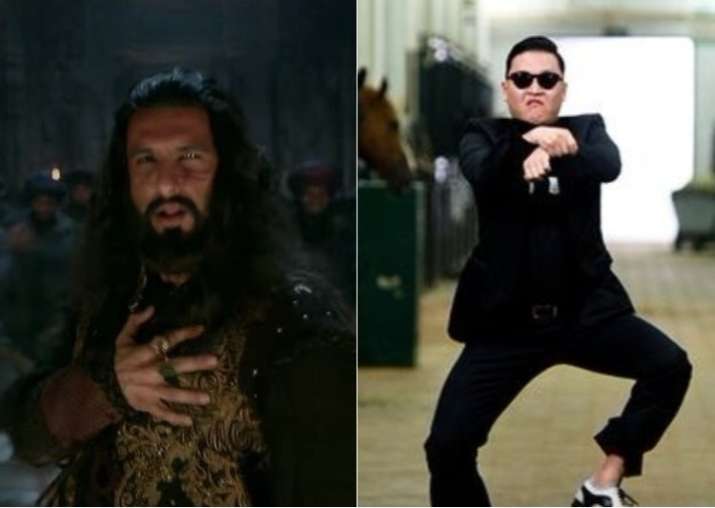 All those of you who have watched Padmaavat must be in awe of Ranveer Singh's evil Alauddin Khilji character. Like always, Ranveer Singh has proved his mettle of getting into a character so well. His role as Turkish invader Alauddin Khilji in Sanjay Leela Bhansali's Padmaavat is winning him rave reviews and praise from all quarters. Several critics and viewers are of the opinion that Ranveer's performance as Khilji in Padmaavat raised the film to a higher level.
But, now, Ranveer Singh has taken the internet by storm as a video has gone viral which shows Ranveer Singh's Khilji character dance to Psy's Gangnam Style. 
One of Ranveer Singh's fan has made Ranveer Singh's Khali Bali dance on world-famous song Gangnam style and now Bollywood actor Javed Jaaferi shared this video by tagging Padmaavat actor Ranveer Singh. And the result is downright hilarious.
Don't believe us? Take a look at Jaaved Jaaferi's tweet and the video.
@RanveerOfficial check this out RT @jaavedjaaferi: Reminds me of the #MasalaMix #ChannelV which my friends #SunilSahjwani and #ShahidSyed used to do brilliantly.
Well done. https://t.co/0uYMNOl3nC

— Jaaved Jaaferi (@jaavedjaaferi) January 31, 2018
Hahhahahaaa LMAO! 😂 Too funny Sir 👌🏾 https://t.co/dXKHPh7vlu

— Ranveer Singh (@RanveerOfficial) February 1, 2018
Ranveer Singh's character from Sanjay Leela Bhansali's film Padmaavat is now the most talked about in current time. Even many are saying that Ranveer has overshadowed everyone in this film. The video of Khalibali, better known as the 'Khilji Song', was released earlier this week. This song already has been viral on social media.
Padmaavat hit the screens on January 25 this year, after a battle that lasted several months. As of now, the film has already crossed the Rs 150-crore mark at the box office in the domestic market.