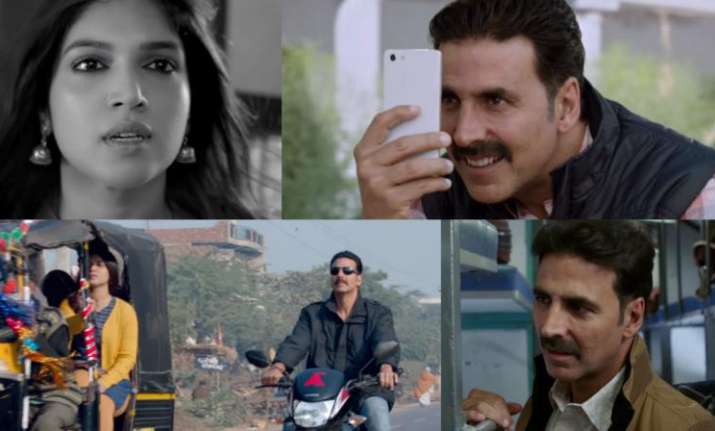 Akshay Kumar, who started off the year on a good note with Jolly LLB 2, will be seen next in Toilet: Ek Prem Katha opposite Bhumi Pednekar. The film, which revolves around hygiene and sanitation, has been making headlines for right and wrong reasons. The Has Mat Pagli song, which was released in three versions-male, female and duet, was criticized as Akshay was seen stalking Bhumi in it. Now, the actor himself has come to the forefront to speak on the matter. He says it may be wrong but in a movie, one can't just show positive things. 
In a song from the film, Akshay's character Keshav is seen following Jaya, played by Bhumi Pednekar, and even filming her on his mobile phone. "It is just a character. In films, there are many things that are shown. In this movie, my character is trying to take a photo of Bhumi's character. Yes, you can say it's wrong, but I can't show all the good things only, right?" Akshay told reporters. 
Actor Anupam Kher, who also stars in the film, says it is important to show a character's entire journey. "To show the good in a character, sometimes you have to show the bad too. The transformation is very important. The character becomes completely different by the end of the film," Kher says. 
Directed by Shree Narayan Singh and co-produced by Akshay and Neeraj Pandey, "Toilet: Ek Prem Katha" stars Akshay in the lead role of a man who is left by his wife after she discovers that there is no toilet in his house. 
On whether he has approached state governments to make the film tax-free, Akshay says, "Not yet. But yes, we have sent the form which has to be filed for tax exemption. Viacom has sent it and has requested if it can be tax-free." The film is scheduled to release on August 11.
(With PTI Inputs0
For more entertainment updates, follow our Facebook page