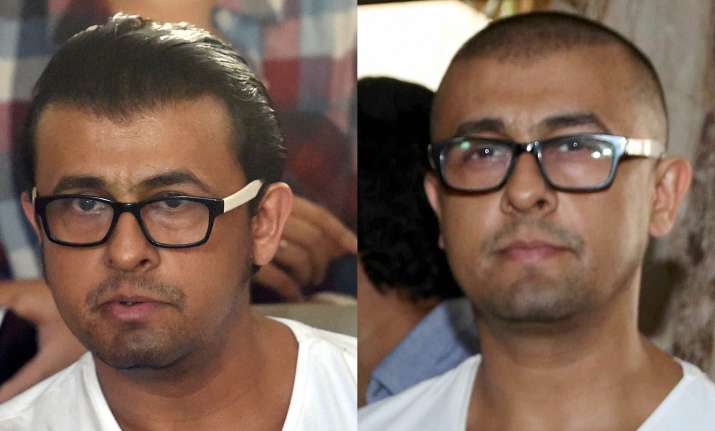 Just shaving his head is not enough, says the Bengal cleric who had called for a fatwa against Bollywood singer Sonu Nigam for complaining against loud noise during azaan. So, despite keeping his promise, the singer is not getting any money.
Talking to ANI, the Kolkata-based cleric Syed Sha Atef Ali Al Quaderi said that the singer has met only one of his three conditions. The Muslim cleric had announced the reward to anyone who would shave off the singer's head, make him wear a garland of old shoes and parade him around India. And that's three conditions, Sonu  just fulfilled one! Smart alec, cleric!
Quaderi said, "Sonu Nigam has not done all the things I asked for, two out of the three things remain unfulfilled. Will give reward of Rs 10 lakh, only when he does rest two-garland of old torn shoes and tour around the country."
Earlier, Quaderi had announced the award to DNA, "If anyone can shave his (Sonu Nigam) hair, put a garland of old torn shoes around his neck and tour him around the country, I personally announce an award of Rs 10 lakh for that person." Taking to Twitter, Sonu had announced, "Today at 2pm Aalim will come to my place, and shave my head. Keep your 10 lakhs ready Maulavi. And Press is welcome to participate at 2pm."
Twitter lauds Sonu Nigam for shaving head
Meanwhile, the singer was applauded on the micro-blogging site for standing up against the fanatics and defying the fatwa that was issued against him for criticising the use of loudspeakers during azaan. 
On Wednesday afternoon, he addressed the press and, had celeb hairstylist Aalim Hakim shave off his hair. The singer had tweeted earlier in the day, saying "Keep your 10 lakhs ready maulvi." 
Social media is collectively saying - Bravo, Sonu. 
"Bravo, Sonu Nigam shaves his head. Now where is the Maulvi who issued Fatwa of 10 lakhs hiding? Looks like these fatwas are issued for publicity," read a tweet.
Kumar Vishwas tweeted
आपके सच्चे दिल का कोई "बाल" भी बाँका नहीं कर सकता दोस्त @sonunigam ख़ुद की ज़ुल्फ़ें गिरा कर नफ़रत का मुडंन करा ही दिया❤️👍#SonuNigam

— Dr Kumar Vishvas (@DrKumarVishwas) April 19, 2017
Rallying behind Sonu Nigam was Anupam Kher
Bande mein hai dum. Jai Ho Sonu Nigam.:) https://t.co/Fcl4wAf8Ht

— Anupam Kher (@AnupamPKher) April 19, 2017
Even the celebrity hairstylist, who rid Sonu Nigam of his hair, tweeted:
Love & Respect @sonunigam 👍🤘❤️ https://t.co/gS8Clo05yR

— Aalim Hakim (@AalimHakim) April 19, 2017