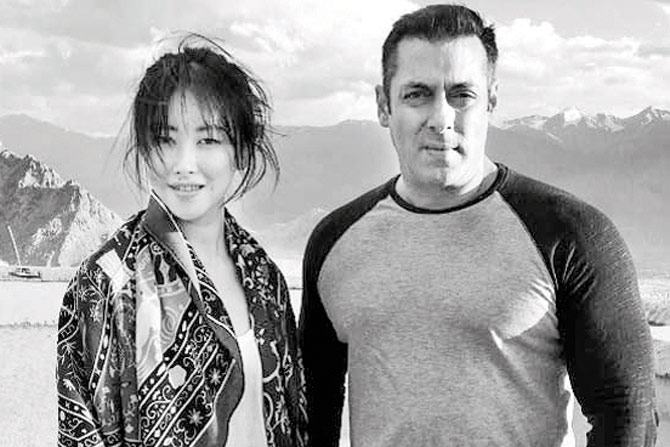 Superstar Salman Khan's new heroine Zhu Zhu has got the interest of many hiked. After a lot of speculations as to who will star opposite the 50-year old superstar in Kabir Khan's 'Tubelight', Zhu Zhu was roped in for the role.
Since Zhu Zhu posted a photo of her and Salman all the way from Ladakh, cine buffs craved for more and more information about her. Now, we know that Zhu Zhu was once a VJ and has done projects with prominent global stars like Tom Hanks and Russell Crowe; but here is another piece of information about her.
As it turns out, Zhu Zhu is swept by the charm of Salman Khan. During her conversation with a leading daily, Zhu Zhu said that she is charmed by Salman and that this 'Tubelight' journey is quite awesome.
"I am thrilled to have this chance to work with Salman. I have seen his films, and I'm very charmed by his talent," Zhu Zhu was quoted by the daily. She also added that she came on board because she was touched by the script.
"I am sure this is going to be another amazing experience in my career and in my life". "Kabir is not only a brilliant filmmaker, but he also always showcases humanity, love and the lives of ordinary people in his movies, which everyone in the world can relate to,"
added Zhu Zhu.
The feelings, however, are mutual. Director Kabir Khan who held auditions for the leading lady said that he was impressed by Zhu Zhu's screen presence.
"She has a strong screen presence, and is a fantastic actor. Salman and she will make an interesting onscreen couple," Kabir was quoted by the daily.