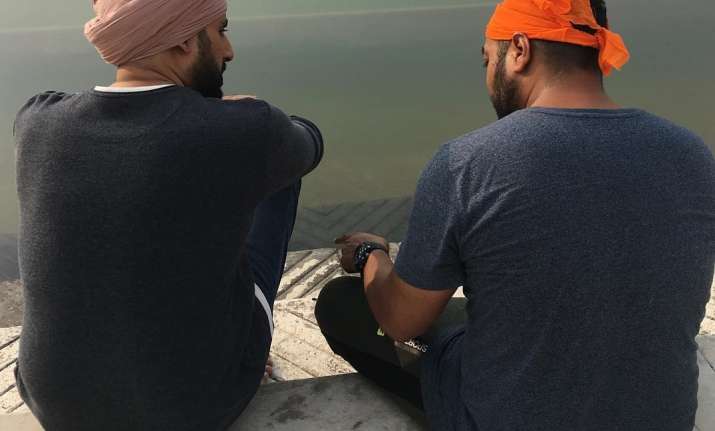 Abhishek Bachchan is all set to make a comeback on silverscreen after a gap of two years. And for his return, he chose renowned filmmaker Anurag Kashyap's project Manmarziyan. The film which has been shot in Punjab, Delhi and Kashmir has wrapped up shooting on Tuesday. On the occasion, the team members of the project got nostalgic and their emotions came flooding in on the social media. After Taapsee Pannu, Abhishek Bachchan penned an emotional note for their director Anurag Kashyap and entire time. He posted a picture of himself with Kashyap, seated beside a lake with a heart-warming caption.
Sharing the picture, he wrote, "Making a movie is a journey. The best thing about films is, the journey will always live on forever. As this part of the journey of #Manmarziyaan comes to an end.... Thank you @anuragkashyap10 for entrusting me with Robbie. I hope I can repay your trust, belief and faith in me. I hope I make you proud. And as and when you look back on this journey, my victory would be if you smile....
To my beautiful co-actors, Thank you! Especially the two mad hatters @taapsee and @vickykaushal09. Stay real, stay mad and mostly.... STAY PUNJABI!!
@kanika.d you wrote it, we acted it. Let's hope our audience lives it! Thank you for your constant encouragement. I can't even begin to tell you how much it helped.
To such an awesome crew- Thank you for being so kind. Aap sab ke saath " hum to udd gaye"!!
#TakeTwo"
In his post, he thanked Anurag Kashyap for trusting him with Robbie (name of the character played by Abhishek Bachchan in Manmarziyan). He also hoped that his portrayal will bear fruitful results for the film and would make him proud.
Earlier, Taapsee Pannu also shared a picture with Anurag Kashyap sharing an emotional note for him. In the caption, she lauded the filmmaker who 'exuberate such energy that you can't just help but be your best'. She also touted him to be the 'wind beneath Rumi's wings'.
The film is slated to release in September 2018.