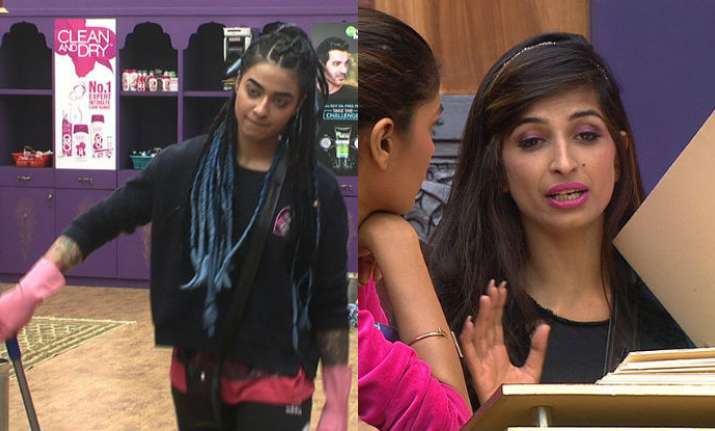 The fifth day of tenth season of 'Bigg Boss' was full of arguments, fights, tears and weird things. During the entire episode, celebrities and India-waale contestants were pitted against each other for the power of the household. However, it was India-waali contestant Priyanka Jagga who stayed in limelight after she asked celebrity contestant Bani J to wash the pants in which the former urinated.
As it happens, Bigg Boss had given a 'Horse Riding' task. Both the teams were asked to send two of their best contestants for the game in which they had to ride a toy horse without putting the foot down. The team who would put the foot down would lose.
While celebrities sent Gaurav Chopra and VJ Bani commoners nominated Navin and Priyanka for the task. After a considerable amount of time on the toy horse, Bani J decided to quit as she had to pee. She asked Karan Mehra if she should pee on national television or no. On consulting with Gaurav, Karan tells Bani to quit saying she shouldn't put her reputation at stake just because of the task.
To this, Priyanka hits back asking that will a commoner do this on television? Later, Priyanka urinates in her pants, winning the task.
It was after the task that all hell broke loose in the house. Priyanaka, being the maalik, asked Bani J, the sewak, to wash her clothes (the ones in which she performed the task). This started a huge fight in the house with even few commoners lashing out at Priyanka for stooping a new low.
The way Priyanka Jagga has been constantly making it to the news for her fights with celebs suggests that she would do anything to win the show. In her own words, she had earlier accepted that she os doing it all for the win. But asking bani to wash her dirty clothes, isn't it too much? Leave your thoughts in the comment section.