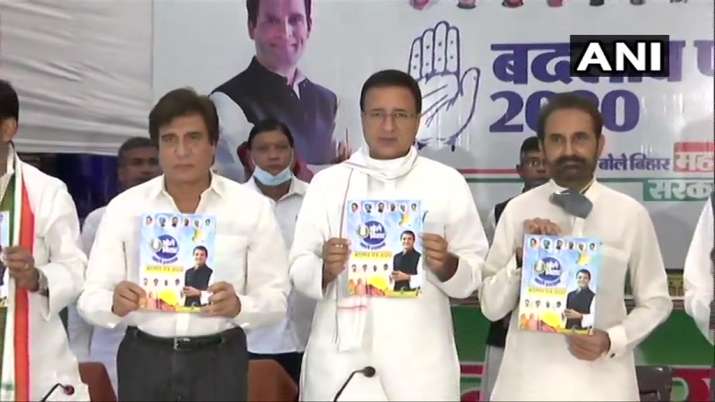 The Congress party has promised to pass a Punjab-like farm law in Bihar, if it forms the next government, to bypass the Centre's three contentious farm laws. In its 'Badlav Patr' (transformation document) released today for the upcoming Assembly elections in Bihar, the party has promised a monthly allowance of Rs 1,500 to each unemployed youth of the state.
Besides, it vowed to take forward party leader Rahul Gandhi's idea of NYAY -- a direct cash transfer scheme which was envisaged ahead of the Lok Sabha elections last year. The party said that it will provide an honorary pension of Rs 800 monthly for the elderly and women. The party will give Rs 1,000 to octogenarians.
The party has also promised to bring a farm loan waiver scheme. It said that contractual teachers will be regularised and will be provided with all the perks.
"Our Badlav Patr talks about loan waiver, electricity bill waiver and increasing irrigation facilities for farmers. If our government comes to power in Bihar, we'll reject NDA govt's farm Laws by bringing separate state farm bills as we did in Punjab," Shaktisinh Gohil, Congress' in-charge of Bihar, said.
बेरोजगारी पर करेंगे प्रहार, युवाओं को देंगे रोजगार।

हम दृढ़-संकल्पित हैं- 10 लाख पदों पर करेंगे भर्ती, खाली पड़े साढ़े 4 लाख पदों को 18 माह में भरेंगे, ₹1500 प्रति माह बेरोजगारी भत्ता देंगे।

बोले बिहार, महागठबंधन सरकार।#संकल्प_बदलाव_का pic.twitter.com/jmnBRz1xF4

— Congress (@INCIndia) October 21, 2020
The party also promised that the grand alliance government will make provision for free education for girls. Girls securing 90 per cent marks in class 12th will be given scooty.
To woo the Maithili voters, Congress said that it will make the Maithili language a compulsory subject in schools.
On migrants, the party said that a 'mazdoor information center' will be set up in all districts to help those facing the heat of coronavirus-induced lockdown.
The Congress is a constituent of the RJD-led grand alliance. The party is in the fray from 70 of the 243 seats.