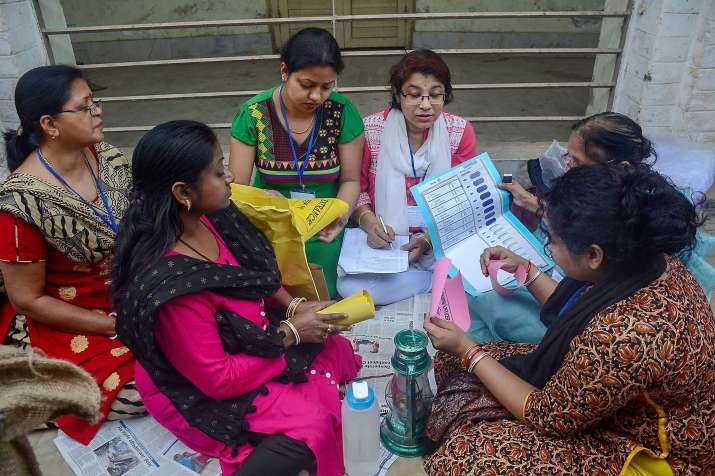 Meghalaya and Nagaland are set to witnesses regional party-dominant elections when the two states go to polls on February 27. 
The high-octane poll campaign in the two northeastern states ended on Sunday as barbs flew thick and fast among parties. 
Both, Meghalaya and Nagaland, have 60-member assemblies but polls will be held only on 59 seats in each state. 
In Meghalaya, the election has been countermanded in Williamnagar in the wake of the killing of NCP candidate Jonathone N Sangma in an IED blast during campaigning. 
In Nagaland, NDPP chief Neiphiu Rio has been declared elected unopposed from the Northern Angami-II constituency.
Key figures of Meghalaya and Nagaland polls: 
There are 370 candidates in the fray in Meghalaya whose fate would be decided by EVMs on February 27.
A total of 18.4 lakh voters are eligible to exercise their franchise at 3,083 polling stations in the state. 
Chief Electoral Officer F R Kharkongor said 67 all-women polling stations and 61 model polling stations have been set up for the first time in the state. 
Thirty-two women are in the fray, the maximum so far in electoral politics in the state, he said. 
A total of 11,91,513 voters, including 5,89,806 women will exercise their franchise on February 27. 
Voting will be held in 2,156 polling stations as 40 polling stations fall under the Northern Angami-II seat, from where Rio has won unopposed. 
The election process in Nagaland started on a difficult note. In view of no-election diktat from the Core Committee of Nagaland Tribal Hohos and Civil Organisations advocating "solution (to the Naga political issue) before the election", political parties initially kept away from poll. 
Though filing of nominations started on January 31, the first batch of 22 contestants filed their nominations only on the penultimate day on February 6. The last day saw a heavy rush of nominees filing papers. After scrutiny and withdrawal, a total of 227 nominees are left in the field.
Also read | Nagaland polls: PM Modi promises early resolution of Naga problem, asks people to vote BJP-NDPP alliance to power
Key candidates
The Congress and the BJP are slugging it out in Meghalaya. The Congress has fielded 59 candidates, while the BJP has put up nominees in 47 constituencies. 
Though they are fighting separately, in Meghalaya NPP of Conrad Sangma, son of former Lok Sabha Speaker PA Sangma, is the BJP's partner in NEDA (North East Democratic Alliance). 
In Nagaland, the BJP's hope hinges on its alliance partner NDPP (Nationalist Democratic Progressive Party) of Neiphiu Rio which is contesting 40 seats. The BJP is fighting 20. 
The Congress, which has given three chief ministers to Nagaland, is contesting only 18 seats, two less than the BJP. 
Also read | Meghalaya Assembly Polls: Rahul Gandhi targets PM, says 'magician' Modi can even make democracy 'disappear'
It's regional parties vs BJP vs Congress
The BJP is making a determined bid to expand its footprint in the Northeast, buoyed by the formation of its governments in Assam, Manipur and Arunachal Pradesh. 
Meghalaya, in particular, is important for the Congress, which has ruled it for 10 years.
But, this time the BJP is making a determined effort to throw them out of power and include Meghalaya, a next door neighbour of BJP-ruled Assam, in its kitty. 
Also read | Meghalaya polls: Union Minister Alphons rubbishes Rahul Gandhi's allegations of BJP trying to 'buy' churches
BJP's resolve could be gauged from the fact that Prime Minister Narendra Modi himself spearheaded the campaign. Party chief Amit Shah, Union Home Minister Rajnath Singh, Defence Minister Nirmala Sitharaman, I&B minister Smriti Irani and a host of other leaders also chipped in. 
Union Minister of State for Tourism KJ Alphons, a Christian from Kerala, stayed put in Meghalaya as the BJP in- charge of the state with a predominant Christian population. 
From the Congress, its president Rahul Gandhi campaigned in the state. Its media chief Randeep Singh Surjewala and MP Shashi Tharoor extended helping hands. 
Also read | 59 per cent candidates for Nagaland elections are crorepatis, JD-U nominee richest: ADR
Importance of Northeastern states in terms of Rajya Sabha seats
With a total of 25 Lok Sabha seats and 14 Rajya Sabha berths, the eight states of the region are crucial for the BJP to add up to its number in 2019 general election. 
At present, the BJP has eight Lok Sabha members from the region, and the Congress has seven. 
In the Rajya Sabha, out of total 14 seats, the BJP has one and the Congress nine. The rest are with local parties. 
The two states will go to polls on Tuesday. The results will be declared on March 3 along with that of Tripura, where elections were held on February 18. 
(With inputs from PTI)
Also read | Tripura Elections 2018: Re-polling underway in six assemblies