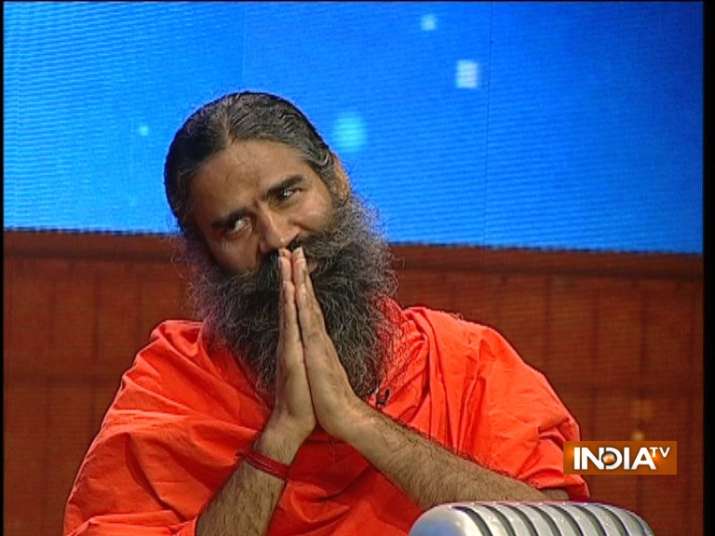 Yoga guru Swami Ramdev today said, he had no "personal enmity" with either Sonia Gandhi or Rahul Gandhi, but at present he does not see any alternative better than Prime Minister Narendra Modi in Indian politics. 
 
Speaking at 'Jai Hind' a day long conclave hosted by India TV on the eve of Independence Day, the yoga guru said, "my best wishes and blessings are with Modi ji. Congressmen have been yearning for my blessings since long. I have no enmity with them. A sadhu never has enmity with anybody. Some of them do come clandestinely and take my blessings. 
 
"My quarrel was not with any individual. Did Sonia Gandhi steal my buffalo? I have no personal enmity with either Sonia Gandhi ji or Rahul ji. Our campaign in 2013 was against corruption, black money and the corrupt system.
 
" Our journey has not ended. We have gained political freedom, but we are yet to gain freedom for our languages, our culture, our educational system and healthcare. The war for national self-respect (swabhiman) is still on. I have been working without a break for the last 40 years. We want good people to run the country, there can be no compromise on that issue. At present, in today's India, not only myself, but most of the people find that there is no alternative better than Modi ji". 
 
Asked whether he finds the Congress led by Rahul Gandhi nearer to him now, Ramdev replied: "Well, Rahul ji is now working more energetically than before. He gave a good speech in Parliament that day, but he made a mistake. To understand India and its soul, one needs a bit of natural flair and  'sanskar' (family values), so he needs to improvise some more. 
 
"After giving a good speech, he went to hug Modi ji, but made a mistake when he came back to his seat and winked. Yet, he is working hard, in preparing his speeches, and collecting statistics, no doubt about that."
 
Asked why he was not so much active politically now, with Lok Sabha elections 8 months away, Swami Ramdev joked: "Actually, I am on 'hath yoga' . In 2013, the situation was different, there were lakhs of crores worth scams, a sense of political disbelief was at its zenith, a political vacuum had take place, there was the question about who will lead a great nation like India. At that time, we found Modi ji as a solution. Even before the RSS and BJP made up their minds, we at the conclave of sadhus gave our blessings to Modiji, and those blessings still stand." 
 
Asked whether he still has a 'hotline' with Prime Minister Modi, Ramdev replied: "Yes, I do have a hotline. Let me make it clear. Whether it is Modi ji, or Amit Shah ji, or Jaitley ji or any other leader, our contacts have not ceased. (samvaad hinta nahin hai) Yet, no one can allege that in the last four and a half years, I got transfers or postings done for anybody in the government.  I haven't spoken to Rahul ji yet. Amit Shah ji came to me and sought my blessings, and I gave him. Rahul ji has not yet met me. "
 
The yoga guru called for a blanket ban on cow slaughter through a law by Parliament. He described those running cow slaughter houses as "murderers".  
 
Ramdev also stressed on 'swadeshi' saying that Chinese goods have captured Rs 20 lakh crore worth market in a total domestic market of Rs 50 lakh crores in India. 
Watch Swami Ramdev's full episode: India TV Conclave J'ai Hind'