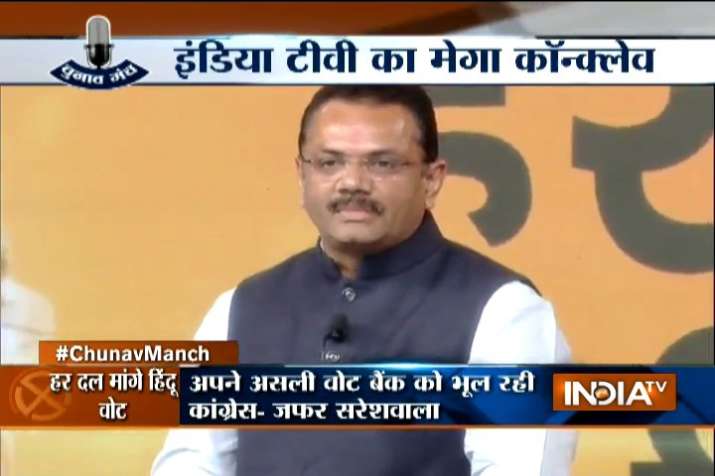 Taking a jibe at Rahul Gandhi, Gujarat BJP chief Jitu Vaghani today said that the Congress vice-president is a 'pravasi panchhi', and that even the God has rejected him. 
Speaking at India TV's day-long mega election conclave Chunav Manch, Vaghani clarified that the BJP never said it will hold the Gujarat Assembly elections alongside Uttar Pradesh. 
Reacting to allegations of PM Modi's visit to the Gujarat temples a strategy to lure Hindu voters, Vaghani said that PM Modi and Amit Shah visit temples every time they visit Gujarat. 
Vaghani was reacting to President of Gujarat Pradesh Congress Committee Bharatsinh Madhavsinh Solanki's allegation that BJP leaders visit temples only for votes.    
The Gujarat BJP chief also said that Congress has been telling lies to people of Gujarat since 1995, but the party has failed to win their votes. 
Solanki, when questioned about the motive behind Rahul Gandhi visiting temples in Gujarat, said that the party respects all religions, and that Rahul Gandhi paying visits to temples is a matter to pride.
"Temples are not BJP's private properties. We respect all religions and Rahulji visiting temples is a matter to feel proud of," said Solanki. 
Responding to Solanki's remarks, Vaghani said, "Rahul Gandhi doesn't know how to seek God's blessings, how to bow head in front of God". 
Zafar Sareshwala, who was also sharing the dais with Solanki and Vaghani, said that the Congress party should present its plan of development before the people of Gujarat. 
Training guns on Congress vice-president, Sareshwala said that Congress has been losing wherever it has let Rahul Gandhi lead the party.
"If two Hindus are competing, we will favour the one who is real," he said. 
"agar vikas pagal ho gaya hai, then what alternative you are offering to people," Sareshwala asked Rahul Gandhi. 
He also said the politics of temple and mosque will not work anymore, adding that gayatri Mantra and Sure Fatya are one.