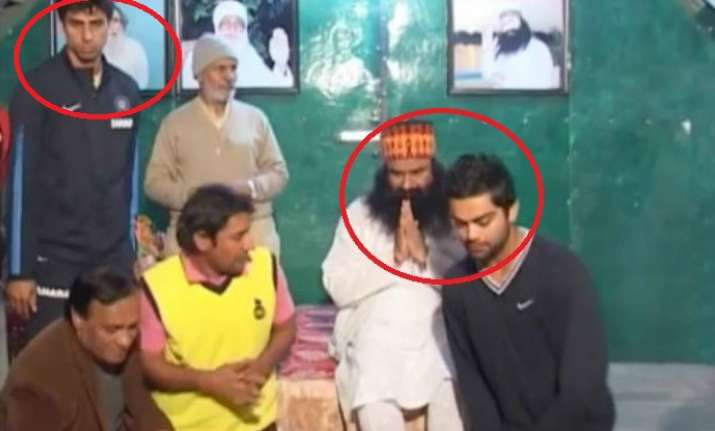 Panchkula CBI court is all set to pronounce quantum of sentence in Gurmeet Ram Rahim case. The self-styled godman is convicted in a rape case. The quantum of punishment is expected to be a minimum of seven years and could extend up to life imprisonment. The administration is keeping strict vigil in Haryana, Punjab and Delhi. On August 25, followers of Dera Sacha Sauda sect torched and vandalised public properties and media vans soon after the verdict. More than 30 were killed and over 200 injured. (Ram Rahim Sentencing Live Updates)
Meanwhile, a video of Ram Rahim along with former Indian pacer Ashish Nehra and Indian cricket captain Virat Kohli is doing rounds on social media. In the clip, both the cricketers along with few other people can be seen seeking blessings from the Dera chief. Earlier, Ram Rahim claimed teaching cricket to Virat Kohli. In one of such videos, Baba says that he is skilled in 32 national games and has coached them as well. He claims to have coached boxer Vijender Singh and of giving cricketing tips to Virat Kohli, Ashish Nehra and many other cricketers.
"God has given me strength to excel in several feats in life otherwise a normal human being cannot even think of accomplishing so much," he says. When asked why none of the cricketers have given due credit to him, he said that it doesn't matter but soon he will release a video of all of them. Shikhar Dhawan, Yusuf Pathan, Zaherr Khan, etc came for tips to me when they were very young. Now in a video, Virat Kohli and Ashish Nehra can be seen bowing to the controversial baba.
Interestingly, Haryana Health and Sports minister Anil Vij has provided fund of  Rs 50 lakh to the Dera Sacha Sauda for conducting sports activities in rural parts. However, it is said that games played at Dera have been innovated by the chief himself and are in no way related to the national or international level.
Watch the video here