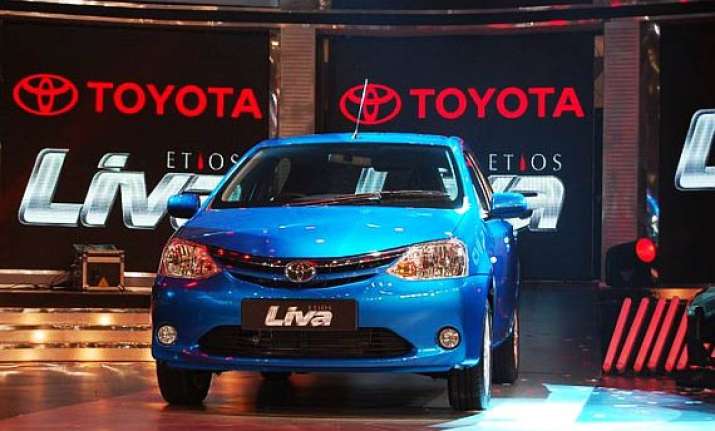 Mumbai, June 29: The world's largest car-maker Toyota today launched its hatchback Liva in the highly competitive compact car segment, priced at Rs 4.12-5.97 lakh (ex-showroom, Mumbai).

"With Liva, we will now be a complete manufacturer in India, offering a full range of products from the luxury SUV Prado to the compact Liva, which is a very useful stylish and dynamic car," Toyota Kirloskar Motor (TKM) Managing Director Hiroshi Nakagawa told reporters here.

Within two days of launching the car in Delhi, TKM has received a good demand for the product, he said. "We have received 1,005 bookings so far and have had 11,000 people making enquiries," TKM Deputy Managing Director Sandeep Singh (Marketing) said.




Singh further said the company planned to increase the dealership network from 97 to 175, to expand its presence in the country.

The company had last year launched Etios, the sedan version of the new product in the country. "We will increase production of the second plant from 70,000 units to 1,20,000 units by next year to shorten the waiting period for Etios and to meet future demand of Liva," Nakagawa said.

The waiting period for Etios is expected to be less than 30 days after the capacity expansion.

The company is setting up a petrol engine plant in Bangalore that will be operationalised in 2012. After this, the localisation level of Etios and Liva will go up to 90 per cent from about 70 per cent at present, Nakagawa said. The company is currently producing about 6,000 units of Etios and Liva per month and it will be increased to 8,000 units a month by September.

"This year our plan is to sell 60,000 units of both Etios and Liva. Out of which, more that 20,000 units will be Liva" Singh said.

He said with both the models, the company will now be competing with 13 products from different rivals in the 'B' segment of the car market.

"Out of the total passenger car market in India, the B segment is about 38 per cent. With the Etios, we are already enjoying 8 per cent of that market," Singh said. He, however, did not specify how much market share the company is aiming for after the launch of Liva.

Toyota, which currently enjoys 3 per cent market share in the country, is aiming for the bigger pie, but Nakagawa did not divulge the expectant market share.

On its plans of exporting the new car, Nakagawa said, "In India, customers' demand and expectations are very high.  Our focus is to meet them. Once we meet that demand, we will study other markets, but there is no such plan as of now."

TKM is investing Rs 3,200-crore to set up its second manufacturing facility in Bangalore with an initial installed capacity of 70,000 units per annum and expanding its total production capacity to 2.1-lakh units by next year. Its first plant is also located in Bangalore. PTI