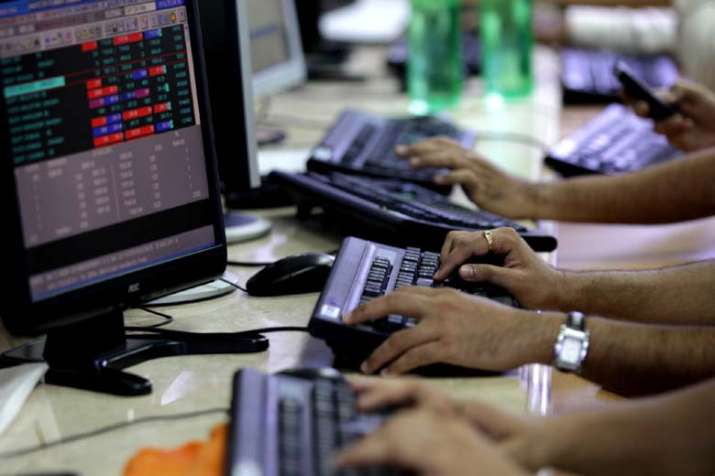 A day after Finance Minister Arun Jaitley presented the Union Budget 2018-19, equity markets tumbled and provisionally closed deep in the red on Friday. 
The BSE Sensex closed at 35,066.75, shedding 839.91 points, while Nifty ended at 10,760.60 sinking 256.30 points on Friday. 
This is the biggest percentage loss for Sensex in a single day since November 2016, when it fell 2.5 per cent.
The development came after negative global cues and reactions on Govt's announcement in the Budget on the reintroduction of the long-term capital gains (LTCG) tax.
Stocks of banking, capital goods, auto, consumer durables, oil and gas, and metals witnessed a huge sell-off on Friday.
The benchmark stock indices took a beating today, mirroring a sharp fall in Asian markets amid concerns over rising bond yields in Asia this week. There was already some negative reactions on the Budget due to reintroduction of long-term capital gains tax.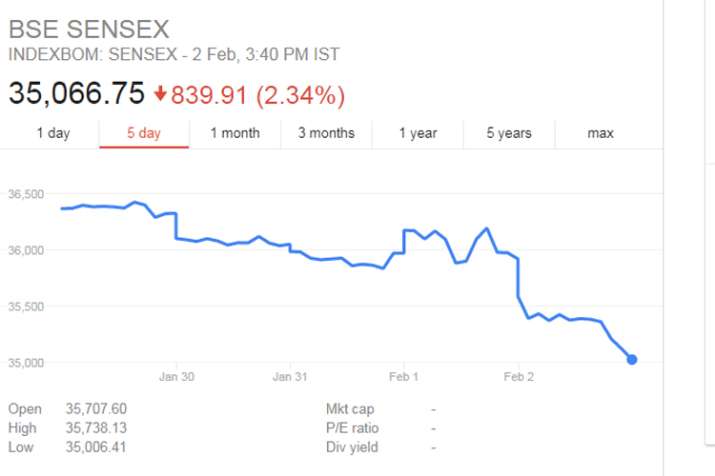 While having a look at the Sensex over the last five days, the barometer Sensex of the BSE shedded an alarming 1342 points – from 36,360.87 on Monday to 35,066.75 on Friday. 
Meanwhile, Nifty came down a total 374.3 points in the same period – from 11,134.90 on Monday to 10,760.60 Friday. 
For the first time, Nifty had hit the 11,000-mark, while Sensex crossed the 36,000-mark on January 23, two days after Prime Minister Narendra Modi said in a TV interview that the Union Budget 2018-19 will not be a populist one. 
He had said that it's a myth that the common man expects freebies and sops from the government. 
Here are some reasons likely responsible for the alarming crash for the markets: 
1. The imposition of long-term capital gains (LGCT) also raised concerns about whether it would foreign investors. Experts believe that it is a retrograde step, and malign India's image worldover making it one of the most-taxed countries.
2. Finance Minister Arun Jaitley extended the fiscal deficit target for FY18 to 3.5 per cent from 3.2 per cent pegged earlier in Budget 2017. He also extended FY19 fiscal target to 3.3 per cent, from 3 per cent earlier. Market did not expect this much fiscal slippage.
3. The measures taken in Budget 2018 such as higher spending and raise minimum support prices for crops may push the inflation higher, at a time when consumer price inflation has already hit a 17-month high of 5.21 per cent, well above the RBI's target of 4 per cent. This would make them more cautious when it announces the monetary policy review on Wednesday next week.