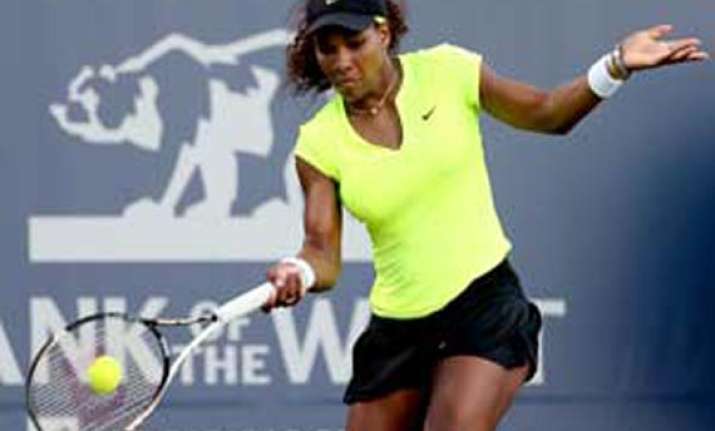 Istanbul:  Top-ranked Serena Williams advanced to the semifinals of the WTA Championships by sweeping past Petra Kvitova 6-2, 6-3 on Thursday.
Williams, the defending champion, won all three matches in her group without dropping a set. She's bidding for her fourth title in the elite, eight-women tournament.   
Earlier, Li Na outlasted Jelena Jankovic 6-3, 2-6, 6-3 for her second victory in two matches and eight-seeded Angelique Kerber upset No. 3 Agnieszka Radwanska 6-2, 6-2 to remain in contention for the semifinals. Radwanska was eliminated.   
Kerber went 0-3 last year in the tournament and this was her first win in the event. She will play Kvitova on Friday for a slot in the last four.   
Williams needed to win only a set to qualify and she breezed through the first despite fighting off three break points in the very first game. She quickly warmed up to overwhelm the fifth-seeded Kvitova, who won Wimbledon and the WTA title in 2011. Kvitova had to withdraw last year because of injury.   
"Something told me to hold serve in that game, and I'm glad I did," Williams said. "Could have definitely changed things. I could still be out there. I really just dug deep and tried to hold.   
"When I play top players or a Grand Slam winner, such as Kvitova who has such a dangerous game, you've got to go in there knowing that anything can happen, and I have to be really focused."   
Williams did not stop after the first set and broke serve again for a decisive 3-1 lead in the second. Williams set up a match point with a service winner and won when Kvitova's return sailed into the net. She finished with 11 aces.   
"I think her serve is really big, so I knew I wanted to hold. I served well," said Williams, who has never lost to Kvitova in five matches.   
Williams, 32, is enjoying the finest season in her career, having already won 10 titles. She added the French Open and U.S. Open titles to bring her Grand Slam record to 17 championships and is 76-4 for the year.   
Making her eighth appearance in the event, Williams is looking to become the first player to successfully defend the title since Justine Henin in 2007. Henin was also the last to win 10 titles in a season, in 2007.   
Williams has clinched the year-end No. 1 ranking for the third time in her career after 2002 and 2009.   
The key to Li's victory in an error-filled match full of long rallies was her break of serve in the third set for a 4-3 lead. She never looked behind again, winning the last three games. Jankovic hit a backhand into the net on Li's second match point.   
The fourth-seeded Li has a 2-0 record in the White Group and looks likely to advance to the semifinals for the first time. Seventh-seeded Jankovic is 1-1. Jankovic is back in the tournament for the first time in three years. The two of them and Victoria Azarenka are vying to make the semis.   
"It was tight, yeah, but at least it's better than the last two years," said Li, who won only once in 2011 and 2012. She was pleased to add she had one foot in the semis but her other foot was "still out of the door."   
Kerber is 1-1 in the Red Group. Radwanska fell to 0-3.   
"I'm feeling good," Kerber said. "I was really playing very well today ... I was focused from the first point."   
Li holds a 6-4 career edge over her Serbian friend, but she had to work hard for her win. Both players were inconsistent and error-prone. Li had 45 unforced errors and 21 winners, Jankovic 36 unforced errors and 17 winners.   
"We had a great fight," Jankovic said. "In the third set it was just a couple of points. I got broken in that (seventh) game. She lobbed me, and the ball went on the line."   
Li followed the lob with a crisp backhand winner to take the game.   
"They were the crucial points at that stage and made a difference," Jankovic said.