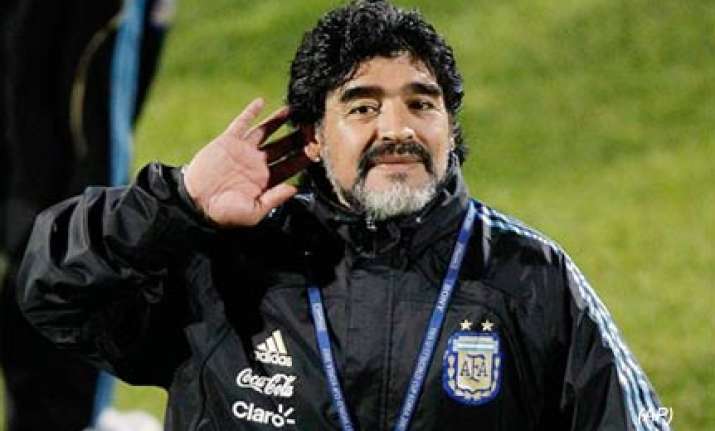 Former Argentina coach Diego Maradona is eyeing a return to management by replacing Martin O Neill as Aston Villa's next manager.
"Diego is very attracted to English football and the way of life in your country and I know he would be very willing to move there, especially at a big club like Aston Villa," The Sun quoted his European spokesman Walter Soriano, as saying.
"If the owner Randy Lerner wants to make him a serious offer, I"m sure he"d get a very positive response," he added.
It would require Maradona to beat Martin Jol, Sven Goran Eriksson and caretaker-boss Kevin MacDonald to land the post.
Lerner is seeking a new permanent manager at Villa Park after Martin O"Neill quit just days before the start of the new Barclays Premier League season.
Kevin MacDonald was in caretaker charge as Villa began the new campaign with a convincing 3-0 win against West Ham.
All of which earned him an eight million pound move to Real Madrid in 2004, but made just 24 starts and a year later signed for Newcastle where he suffered a catalogue of injuries.
But, last year, there was hope of a comeback when he signed on as a free player for Manchester United.
Owen said: "I'm 30 now and understand I won't play every game. I've had a lot of injuries and don't have the pace I once had. But life evolves. I've changed my style, I'm a different type of player now and, because of that, I reckon I've still got four or five years at the top." "And I much prefer that to be at United, where I train every day with some of the world's top players. Where I work every day with arguably the best manager who's ever lived. Where I play in front of such great fans and in an amazing stadium such as Old Trafford.
And I'm really happy I now live back at home after having been away for five years. I prefer all of those things ahead of playing every game for a team that's only ever going to be 12th in the league," The Sun quoted Owen, as saying.
"Now that's when I would struggle to find the motivation. So I'd rather play half the games but be at United with this great manager, these great players, at this great stadium and in front of so many fanatical fans. If United play 60 games again this season, I can still play a big part," he added.