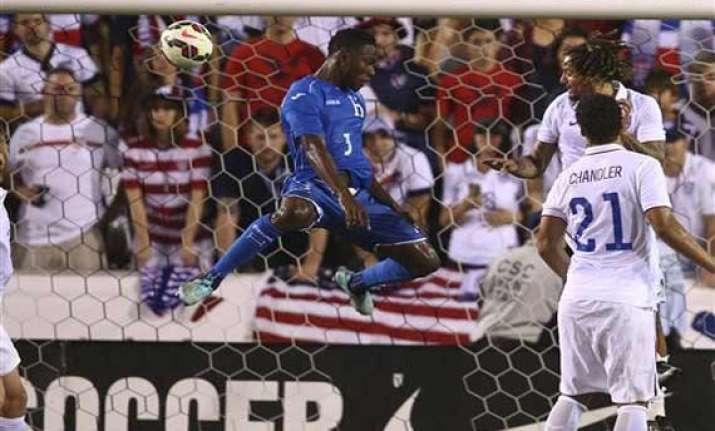 BOCA RATON, Florida: Maynor Figueroa headed in a late goal to give Honduras a 1-1 draw with the United States in an international friendly Tuesday.
Jozy Altidore marked the return to his hometown by opening the scoring in the 10th minute for his 24th international goal. Mix Diskerud intercepted a pass and Michael Bradley sent a long ball from midfield, where Altidore chested it down, took two touches and sent a 15-meter (yard), right-footed shot past goalkeeper Donis Escober.
Figueroa scored when got away from Jermaine Jones and jumped to beat goalkeeper Nick Rimando with a short header off Mario Martinez's free kick in the 86th minute following Diskerud's foul. Figueroa's goal was his fourth in 109 international appearances.
The U.S. allowed Enner Valencia's 88th-minute goal in a 1-1 draw against Ecuador on Friday in Connecticut; Diskerud had put the Americans ahead in the fifth minute of Landon Donovan's farewell match.
Altidore, who missed most of the World Cup after injuring a hamstring early in the opener against Ghana, was in the middle of a great chance two minutes before his goal. He moved with the ball in space on the left side of the penalty area and crossed toward Clint Dempsey. But the pass was slightly behind Dempsey, who sent a shot outside the far post.
The game drew 14,805 to Florida Atlantic Stadium, which was about half full.
U.S. coach Jurgen Klinsmann changed six starters, giving Jones a start at central defender paired with Matt Besler. Jones, who started in midfield during the last World Cup cycle, will be 36 by the 2018 tournament in Russia.
Dempsey, Bradley, Jones, Besler and Rimando were among the new starters, joined by Graham Zusi. Bradley played in an attacking role in midfield.
Minnesota United's Miguel Ibarra made his national team debut in the 90th minute, becoming the first player to appear for the national team from an American second-division team since at least 2005.