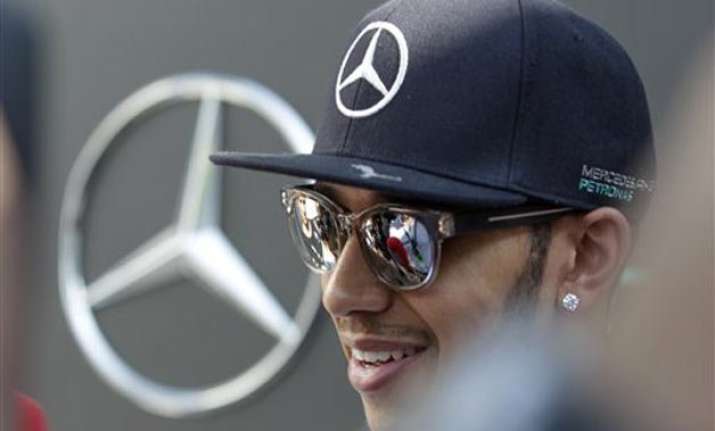 Sepang, Malaysia: Mercedes driver Lewis Hamilton overcame major engine trouble in the morning to set the fastest time in Friday's afternoon practice for the Malaysian Grand Prix.
Demonstrating how far clear of the field Mercedes is, Hamilton missed about two thirds of the day's running yet still set the top time of 1 minute, 39.790 seconds at the Sepang International Circuit.
He was a third of a second faster than Ferrari's Kimi Raikkonen, who surprisingly edged the second Mercedes of Nico Rosberg.
With track temperatures soaring past 60 degrees Celsius (140 Fahrenheit) — hotter than any track temperature experienced last year — many drivers struggled with tire degradation, which looms as a key factor in Sunday's race.
Red Bull's Daniil Kvyat was fourth quickest, but he and teammate Daniel Ricciardo suffered yet more problems with their Renault engine. Ricciardo was tenth fastest.
The Williams drivers Valtteri Bottas and Felipe Massa were fifth and sixth in the times, ahead of Ferrari's Sebastian Vettel, Toro Rosso's 17-year-old Max Verstappen and Sauber's Marcus Ericsson.
Fernando Alonso made his first appearance in his second stint at McLaren, having skipped the opening race due to lingering effects from a preseason crash. The good news was that he edged teammate Jenson Button, but the bad news was that they were down in 16th and 17th as the team struggles with new engine partner Honda.
"We are a long way away from where we need to be and it's not a positive change," a frustrated Button was heard to say on team radio.
The Manor team, which did not even get on track in the season opener in Australia as it ran out of time to prepare its cars and computer systems, also made a belated season debut. Will Stevens was almost six seconds slower than Hamilton and Roberto Mehri was 7.5 seconds off the best time, but the team did enough to indicate it might be within seven per cent of Saturday's pole team, and be able to race on Sunday.
Reigning world champion Hamilton did not set a time in morning practice, pulling off the rack and saying in a radio message that "there was a click in the rear, the gears still worked but I stopped the car like you told me to, but I would have made it back."
His engineer replied "we are a bit worried about this because it's a race engine" and took a cautious approach because there was also a telemetry failure on the car so they did not know what the problem was.
Work continued on the car for more than three hours, costing him the first 40 minutes of the afternoon session, but immediately he set the best time.