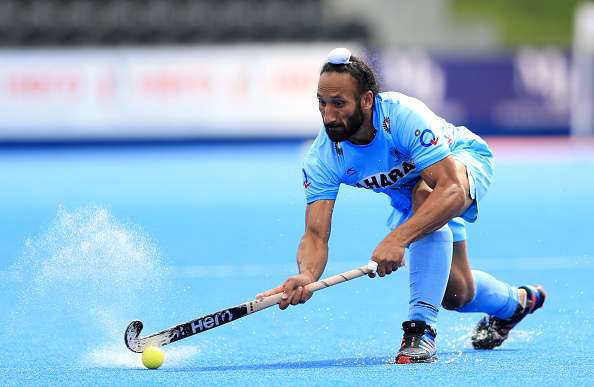 From being one of India's best hockey players to facing a sexual harassment charge, Sardar Singh has experienced every emotional crest and trough in an eventful career spanning over a decade. 
At the twilight of his career, the 31-year-old has been recommended for India's highest sporting honour -- the Rajiv Gandhi Khel Ratna --, and he is hoping that it puts an end to the bad phase that he has been going through. 
Sardar was today recommended along side Paralympian Devendra Jhajharia for the Khel Ratna by a selection committee headed by Justice (Retd) C K Thakkar. 
"That is a forgettable episode of my life. I have seen many ups and downs in my life. But now I just hope it (Khel Ratna recommendation) will put to rest all the controversy. The Punjab Police has also given me a clean chit," Sardar told PTI referring to the charge levelled against him by an Indian-origin English hockey player. 
"People who don't know me might have many apprehensions about me after reading about the controversy in the newspapers. But people who know me believe in my innocence and still respect me," Sardar said. 
Sardar's image took a hit last year when allegations of sexual harassment were levelled against him. But the selection committee found it hard to ignore his sporting achievements.
"I know I could never do any bad things with anyone. I was literally shocked when I got to know about the charge but my mind was very clear. I knew that I did nothing so I couldn't afford to live in fear," Sardar said. 
Sardar made his debut for India in the junior team during India's Tour of Poland in 2003-04. In 2006, he graduated to the senior side making his debut against Pakistan. 
Known for his terrific fitness levels not only in India but worldwide, Sardar has included in the 18-man FIH All Star team in 2010 and 2011. 
Sardar was also the youngest player to captain the Indian team when he led the side at the 2008 Sultan Azlan Shah Cup. He received the Arjuna award in 2012 and Padma Shri award in 2015. 
Sardar has already represented India in two Olympics and is eyeing a swan song when the mega-event is held in Tokyo in 2020. 
However, he is pretty clear about what he wants from his career and is not keen to prolong his career beyond a point. 
Sardar made it clear that although he aspires for 2020 Tokyo Games, he will take a call on his career at the end of 2018, a year which will feature two major sporting events in the Commonwealth Games and the Asian Games. 
"My target is still 2020. But I know I am at the end of my career and will see how it goes after 2018. I am still one of the fittest players in the Indian team but I will assess my body after 2018," Sardar said. 
"I'm not someone who will hang on to a place. Whenever I'm not satisfied with my game and fitness, I will call it a day and make way for a junior," he added. 
"But I still have the motivation and the Khel Ratna recommendation will only give a fillip to that." 
Although it is still early days to think about his course of action post retirement, Sardar has planned his future. 
"When I quit hockey I will open an academy in Haryana. I will request the Haryana government to help me in my endeavour. Whatever I have learnt in all these years, I want to impart that education to budding hockey players," said Sardar, who 
"I also intend to attend FIH coaching classes to be eligible for a coaching degree.