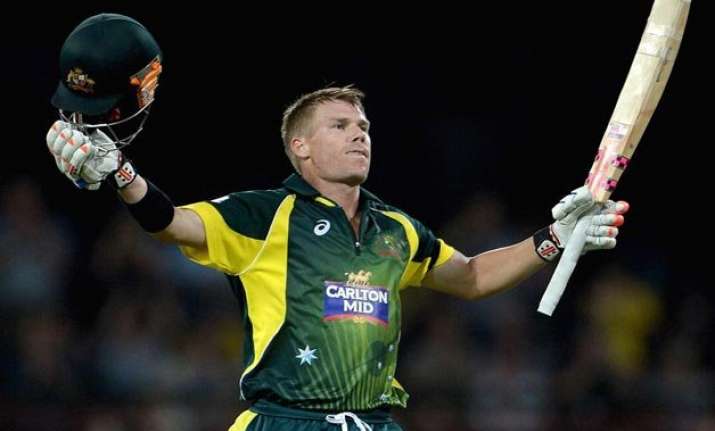 Sydney: England's World Cup preparations suffered an early setback Friday when it was beaten by three wickets by Australia in the first tri-series one-day cricket international.
Opener David Warner crashed 127 from 115 balls to drive Australia past England's total of 234 with more than 10 overs remaining in a one-sided match at the Sydney Cricket Ground that began with England's decision to bat upon winning the toss.
England lost two wickets without scoring in the first over and depended on a captain's knock of 121 from 136 balls by Eoin Morgan to produce a total of 234 in 47.5 overs.
Warner impelled Australia to its winning target with a century from 97 balls — his third in one-day internationals and his first since March 2012.
"It was obviously good to score a hundred, we won the game and it was good to get a bonus point in 40 overs," Warner said. "George (Bailey) said we'd go for it, we took the powerplay and played some cricket shots and we did that.
"It was good to have another record and we're all about records in our team at the moment. We've broken a few this summer. I've just got to keep doing my job at the top of the order and that's score runs."
England couldn't overcome the setback of losing two wickets to the first three balls of the match and struggled to set Australia a total that was likely to stretch it on a pitch Morgan called "a bit used" when he won the toss.
Morgan's seventh ODI century — his sixth for England and his first since he took over from Alastair Cook as captain — gave substance to its innings but the early blows struck by Australia's pace attack proved mortal in a match finally decided by the innings of Morgan and Warner.
The England and Australia innings were similar with both depending on a single innings — the centuries of Morgan and Warner — and no other batsman making a major contribution.
But Warner compiled his innings under no real pressure, while Morgan was faced with a difficult situation when he came to bat and with his team's innings already in disarray.
Left-arm speedster Mitchell Starc produced two superb in-swingers to right-hand batsmen to trap Ian Bell lbw with the first ball of the match and James Taylor, identically, two balls later.
Joe Root was out for 5 and England was 12-3 when Morgan found himself at the crease in the fourth over.
The England captain accepted the task of repairing his team's innings and went about that responsibility fastidiously, reaching his first half-century in nine innings from 88 balls. He eventually went on to his century — he has six for England and one for Ireland in one-day internationals — from 127 balls with nine fours and two sixes.
But few England batsmen shared Morgan's spirit and determination until wicketkeeper Jos Buttler, with 28 from 60 balls, came in and formed a partnership of 67 for the sixth wicket.
Opener Moeen Ali watched from the non-striker's end as his first two partners vanished within the first three balls of his innings. His response was to try to hit England out of its early crisis and he hit two fours and a six before he was out for 22 from 21 balls.
Australia's bowlers, especially James Faulkner and spinner Xavier Doherty, contained England through the middle of its innings while Starc assumed a strike role at the start and at the death.
After dismissing the first two England batsmen in the opening over he returned to remove Morgan and Steve Finn and to finish with 4-42 from 8.5 overs.
England went into the match without a spinner and with a bowling attack of noticeable sameness — Stuart Broad, Steve Finn, Chris Jordan and Chris Woakes — who are all right-armers and of similar pace.
Warner had no trouble against any of them, unleashing all of his scoring shots and finishing with 18 boundaries.
The next tri-series match between Australia and India is at Melbourne on Sunday.