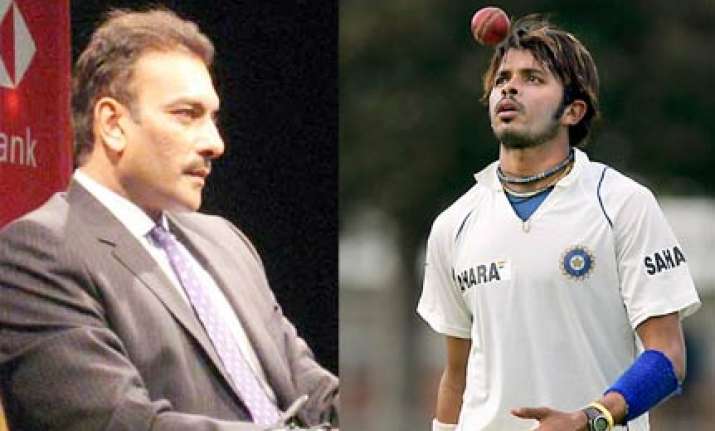 Kochi, Oct 7: Indian speedster Sreesanth should focus on his strength and not be intimidated by anyone, least of all by Australians, Former Test Captain and Chairman National Cricket Academy, Ravi Shastri, today said.
With
Ishant Sharma
, being ruled out of the second test match against India and Australia at Bangalore starting on Oct 9, Sreesanth could find a place in the playing eleven, he said.
'Focus on your strength, be your self, do not be intimidated by anyone least of of all by Australians', Shastri said addressing 'Nostalgia' a function here to mark the 60th year of the formation of the KCA.
The KCA's endeavour should be produce more cricketers from the state.
'Focus on the districts. .. They are more passionate about cricket and dream about the sport and above all have few distractions. People in the Metros are soft', he said.
There is need to develop infrastructure in schools in the districts and Kerala should produce more cricketers, he said.
Later speaking to reporters on the sidelines of the function, Shastri said India's victory in the first test at Mohali, was one of the greatest test matches, where your hair stands. It was that close. This was one of the best performances by V V S Laxman and Ishant Sharma. Great endorsement for test cricket.
'This was the best performance of the Indian Test Cricket. It shows the self belief and charater of the team. More than 12 months we held the position of number one in test match ranking,' he said.   'Ishant had a very good performance and Sreesanth should take heart from that and perform well if he gets selected to the playing eleven.
Asked if he was hopeful of the Kochi
IPL
team becoming a reality this season despite being dogged by controversies, Shastri's reply was 'We will get to know about it in 10 days'. Show cause notices have been issued to three teams, incluidng Kochi. 'I do not want to speculate on it as it will be foolish on my part', he said.
It was a walk down memory lane as veteran players and members of KCA remembered the formation of the association under the leadership of G V Raja.
K T Rama Varma Thampuran, one of the founder members of KCA, who had attended the association's inaugural meeting 60 years ago, spoke about the birth of the KCA.
Veteran player Ravi Achan, former KCA Secretary, S K Nair, TNCA Secretary Kasi Viswanathan, KCA Secretary, T C Mathew and President T R Balakrishnan were among those who spoke. PTI