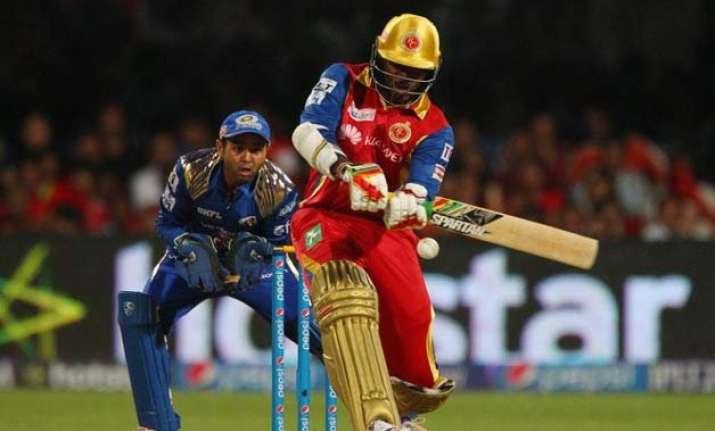 Bangalore: Scoreboard of Royal Challengers Bangalore vs Mumbai Indians, Match 16 of Indian Premier League 2015 played at M Chinnaswamy Stadium here on Sunday.
Mumbai Indians produced a clinical performance to beat Royal Challengers Bangalore by 18 runs in a high-scoring affair and register their maiden win in this year's Indian Premier League.
Sent into bat, Lendl Simmons and Unmukt Chand first smashed strokeful half-centuries to power Mumbai Indians to an imposing 209 for seven and then veteran off-spinner Harbhajan Singh (3/27) weaved his magic to restrict RCB to 191 for seven.
Chasing an imposing 210 for a victory, RCB did not have the best of starts and kept losing wickets on regular intervals to hamper their cause.
RCB's chase heavily relied on an explosive start from Chris Gayle but it was not to be as in spite of getting two lives the West Indian cut a sorry figure scoring just 10 runs off 20 balls.
David Wiese (47 not out off 25 balls), who picked up four wickets for 33 runs on debut, and Iqbal Abdullah (20 off 15) tried their best towards the end but it proved to be a too tall task to achieve.
Mumbai Indians innings: 209/7 in 20 overs
| | | |
| --- | --- | --- |
|  Lendl Simmons |  c Aaron b Chahal |  59 |
|  Parthiv Patel |  b Wiese |  12 |
|  Unmukt Chand |  c Kohli b Chahal |  58 |
|  Rohit Sharma |  c & b Wiese |  42 |
|  Kieron Pollard |  c Chahal b Wiese |  6 |
|  Ambati Rayudu |  c Chahal b Wiese |  0 |
|  Harbhajan Singh |  run out (Bisla/Nechim) |  0 |
|  Hardik Pandya |  not out |  16* |
|  Extras |  (lb 4, wd 13) |  17 |
|  Total |  for 7 wickets |  209 |
|  Overs |  innings break |  20 |
|  Fall of wickets                            |  1-47 (Patel, 5.5 ov), 2-119 (Simmons, 13.3 ov), 3-182 (Chand, 17.4 ov), 4-188 (Pollard, 18.2 ov), 5-188 (Rayudu, 18.3 ov), 6-192 (Rohit, 18.5 ov), 7-209 (Harbhajan, 19.6 ov) |                      |
Did not bat: Jasprit Bumrah, Mitchell McClenaghan, Lasith Malinga
Bowling
| | | | | |
| --- | --- | --- | --- | --- |
|  Bowler |  Overs |  Maidens |  Runs |  Wickets |
|  Iqbal Abdulla |  4 |  0 |  35 |  0 |
|  Varun Aaron |  4 |  0 |  50 |  0 |
|  Abu Nechim |  4 |  0 |  59 |  0 |
|  David Wiese |  4 |  0 |  33 |  4 |
|  Yuzvendra Chahal |  4 |  0 |  28 |  2 |
Royal Challengers Bangalore innings: 191/7 in 20 overs
| | | |
| --- | --- | --- |
|  Chris Gayle |  b Harbhajan |  10 |
|  Manvinder Bisla |  b Harbhajan |  20 |
|  Virat Kohli |  c Rayudu b McClenaghan |  18 |
|  Dinesh Karthik |  c Chand b Malinga |  18 |
|  AB de Villiers |  c Pollard b Bumrah |  41 |
|  Rilee Rossouw |  b Harbhajan |  0 |
|  David Wiese |  not out |  47* |
|  Iqbal Abdulla |  run out (Rohit/Pollard) |  20 |
|  Abu Nechim |  not out |  1* |
|  Extras |  (lb 1, w 13, nb 2) |  16 |
|  Total |  for 7 wickets |  191 |
|  Overs |  match over |  20 |
|  Fall of wickets                         |  1-26 (Bisla, 4.6 ov), 2-48 (Gayle, 8.1 ov), 3-62 (Kohli, 10.3 ov), 4-97 (Karthik, 12.1 ov), 5-119 (Rossouw, 13.1 ov), 6-125 (de Villiers, 14.2 ov), 7-183 (Abdulla, 19.1 ov) |                      |
Did not bat: Varun Aaron, Yuzvendra Chahal
Bowling
| | | | | |
| --- | --- | --- | --- | --- |
|  Bowler |  Overs |  Maidens |  Runs |  Wickets |
|  Mitchell McClenaghan |  4 |  0 |  43 |  1 |
|  Lasith Malinga |  4 |  1 |  35 |  1 |
|  Harbhajan Singh |  4 |  0 |  27 |  3 |
|  Jasprit Bumrah |  4 |  0 |  39 |  1 |
|  Hardik Pandya |  3 |  0 |  37 |  0 |
|  Kieron Pollard |  1 |  0 |  9 |  0 |