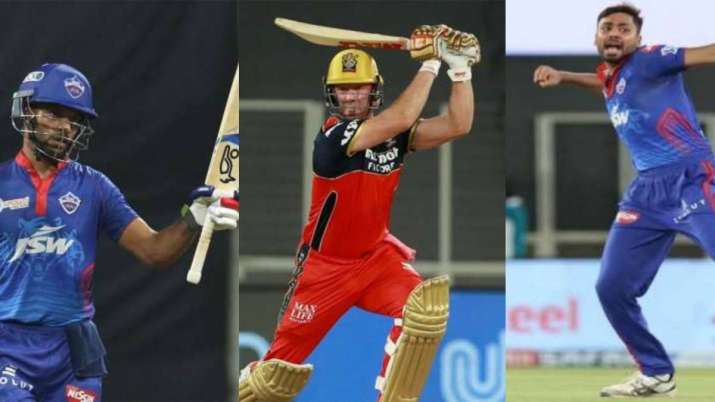 The 14th edition of the Indian Premier League (IPL) was cut short owing to the rise in COVID positive cases within the bio-bubble, but the 29 completed matches at the halfway stage of the tournament provided ample breathtaking performances to select the best XI from the season so far. 
Top-order: Prithvi Shaw, Shikhar Dhawan, Moeen Ali
Young Shaw, who incurred a forgettable IPL 2020 in the UAE followed by losing his spot in India's Test line-up, headed to the tournament on the back of a rampaging form in the Vijay Hazare Trophy where he scored a record-breaking 827 runs at a staggering average of 165. All eyes on were Shaw since the start of the tournament and he did no disappoint, plundering runs at a breathtaking scoring rate of 9.98 runs per over and an astounding boundary rate of 3.77. He kicked off the season with a 38-ball 72 against Chennai Super Kings, put up a 39-ball 53 against SRH, but his standout performance was against Kolkata Knight Riders where he scored 82 off 42 laced with 14 boundaries. However, the most significant figure that illustrated his domineering form this season was his PowerPlay strike rate of 187.39, which is the most by any batsman who has at least faced 50 balls during that phase.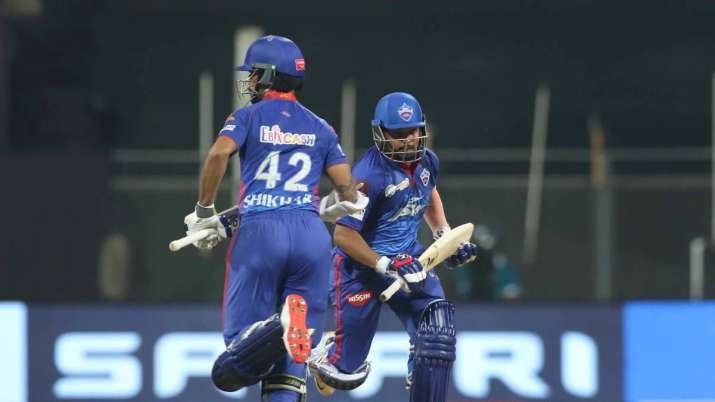 Shaw has been partnered with his Delhi Capitals teammate Shikhar Dhawan, who ended the halfway stage of the league as the Orange Cap holder - 380 runs in 283 balls at 54.29 and strike rate of 134.28 - which has ow put him back in contention for India's World T20 squad. Dhawan has shown the ability to bat deep, tone up his aggression with the time he spends in the middle while improving his leg-side game. He opened the tournament with a 54-ball 85 against Chennai, followed it up with 92 off 49 against Punjab Kings, and ended with an unbeaten anchoring knock of 69 against the same team. 
Chennai's new recruit, Moeen Ali, completes the top order. No other batsman has made as much an impact to the Chennai side as the English all-rounder, scoring 206 runs in 131 balls at a run rate of 9.42, to provide that much-needed impetus to the side's long batting lineup that they have put together and added that aggression to their batting which they severely lacked in the previous season. Although his tally comprises just one half-century, only one of his knock was at a strike rate of less than 145. Moreover, he also picked five wickets at 14.8 and an economy rate of 6.17 which includes his best figure of 3 for 7 against Rajasthan Royals. 
Middle-order: Sanju Samson, AB de Villiers, Ravindra Jadeja, Chris Morris
Whether it was captaincy that brought about the realisation, but Samson finally showed glimpses of being a consistent batsman while having a high strike rate. Like most other seasons, Samson kicked off 2021 with an inspirational 63-ball 119 in Rajasthan Royals' attempted chase to a colossal 221. In the next four games, he managed only a run-a-ball 26, before bouncing back with three consecutive scores of 40s to show both his ability to stay in the middle as against his aggressive role as a batsman and manage a healthy strike rate to keep the scoreboard ticking. Overall, he has scored 277 runs at 46.2 with a strike rate of 145.8.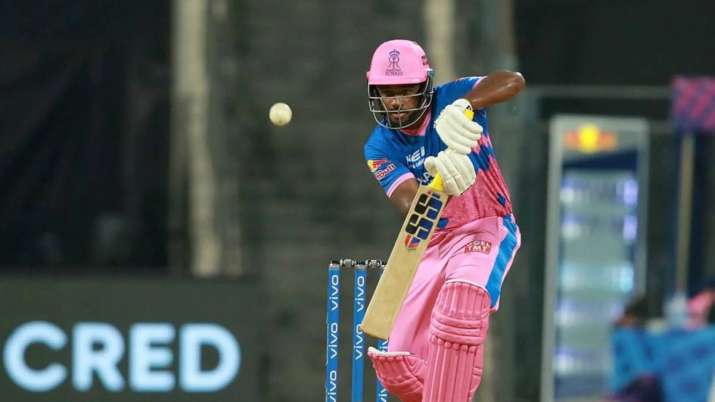 He will be followed by arguably the best T20 batsman ever. De Villiers, as usual, has been phenomenal as ever, and even though he has put up exhilarating shows before in T20 cricket, similar performances left world cricket in awe of the veteran cricketer. His 27-ball 48 against Mumbai Indians in the season opener was only a trailer to his stupendous 76 off 34 against Kolkata Knight Riders where he smashed Andre Russell all over the park to single-handedly set up RCB's win. 
The two other all-rounders who make the lineup are Ravindra Jadeja and Chris Morris. Jadeja has been the most complete all-rounder performer this season, epitomised by his unforgettable show against RCB where he decimated the Purple Cap holder Harshal Patel for a 36-run over, before finishing with the best figures of 3 for 13 and inflicting a stunning run-out dismissal. Overall, he has scored 131 runs at a run rate of 9.7 and picked six wickets at an economy rate of 6.70.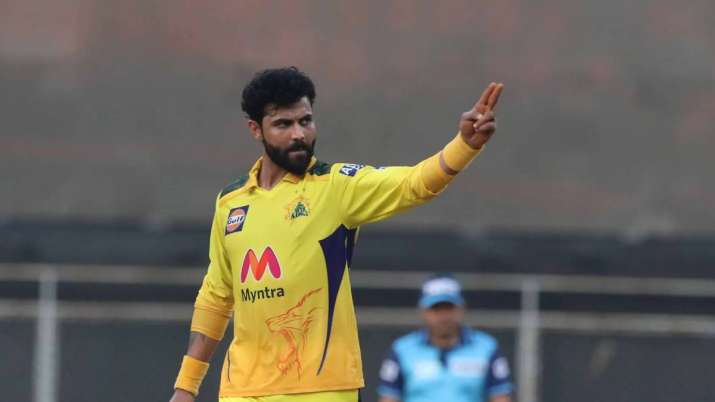 Hefty price tags have always added to the mental pressure of the player, and IPL has witnessed this over the years. But Morris has been worth every cent, living up to the high expectation. He picked 14 wickets at 16 in seven games to aptly fill the shoes of Jofra Archer, nine of which came in the death overs, the second most, at an economy rate of 9.38 and strike rate of 5.33 (the best this season).
Bowlers: Rashid Khan, Avesh Khan, Deepak Chahar, Jasprit Bumrah
The bowling department has been the hardest to select from with ample good options. We have hence picked bowlers in terms of their bowling phases (PowerPlay, middle and death) and have come down to these four besides the aforementioned three all-rounders. 
In an otherwise disappointing campaign for the Sunrisers, Rashid has been the only positive consistent force that kept them alive through their matches. He picked 10 wickets this season at an economy rate of 6.10. 
Deepak Chahar has been picked solely on his return of form with the new ball, picking 7 of his 8 wickets this season in the PowerPlay at an economy rate of 7.90. Meanwhile, Avesh Khan is the second primary pacer with his tally of 14 wickets in eight games, and has been more effective than Harshal Patel, who has 17 wickets to his name. Half of his 14 dismissals have been top-4 batters and only three being of No.7 and lower. Moreover, nine of his dismissals have been for single-digit scores. Avesh has also been an effective option in the middle overs where he picked seven wickets, the most by a pacer, at an economy rate of 7.33, which is only behind Rajasthan Royals Mustafizur Rahman (6.64).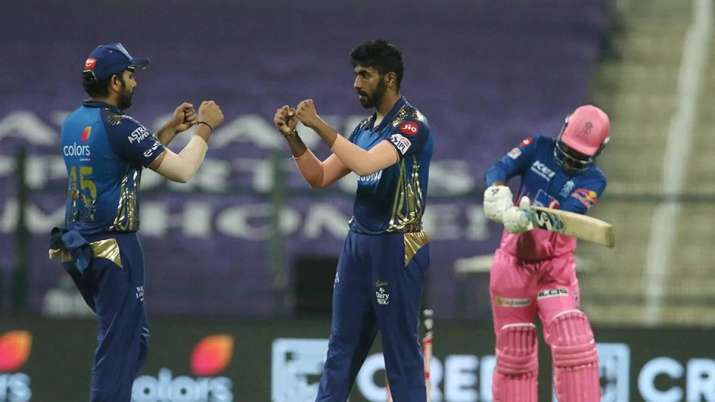 Bumrah's selection might raise a few eyebrows, but even in a rather quiet start to IPL 2021, the Indian pacer has made quite an impact with his six wickets, coming at an economy rate of 7.11. 4 of those dismissals came in the death, at an economy rate of 7.92, which is the second-best among bowlers who have at least bowled 24 deliveries during that phase