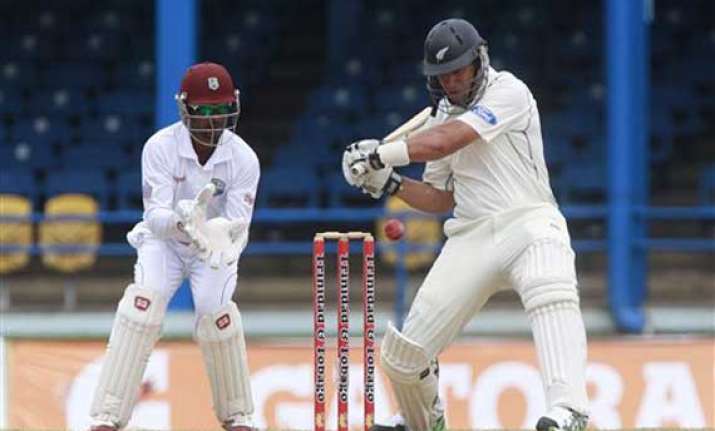 Port-of-Spain (Trinidad): Head coach Ottis Gibson expects the West Indies to complete an easy victory over New Zealand on Friday's final day, and set up a grand finale in the Barbados Test starting next week.
New Zealand finished the fourth day of the second Test at Queen's Park Oval here on 257 for eight, just 18 runs ahead, leaving the West Indies posed for a comprehensive win, reports CMC.
"We had to toil hard and we knew we would have to toil hard but I'm proud of the way we have played in this match...the way we fought back after going 1-0 down in the first match at Sabina Park," said Gibson.
"Overall we had a good day and we will look to come back tomorrow and finish the job."
When New Zealand were reduced to 212 for eight after tea, still 27 runs adrift of avoiding an innings defeat, it appeared West Indies would complete a four-day victory.
However, wicketkeeper Bradley-John Watling occupied the crease for 4-1/4 hours in scoring an unbeaten 38 while tailender Mark Craig has so far batted 1-3/4 hours for his 29 not out to frustrate the West Indies with a ninth-wicket stand of 45 runs.
Kemar Roach has so far taken three for 53 while fellow seamer Jerome Taylor (2-46) and combative left-arm spinner Sulieman Benn (2-62) bowled well.
"This is what Test cricket is all about ... it tests your character, fitness levels and skills but we will come back and we will get the job done," Gibson pointed out.
"We have played four really good days of cricket and we are confident. Throughout the days everyone stepped up when they were called upon and but we stayed strong for most of the day."
In the first Test last week, West Indies produced a limp performance to slump to a 186-run defeat inside four days at Sabina Park, to fall behind 1-0 in the three-Test series.
Gibson said his troops had hit back well with this performance.
"We needed a response and the guys have responded very well ... credit to the players for the way they bounced back after Jamaica and we just have to make sure we get a win here and go to Barbados 1-1 and look to clinch the series there."