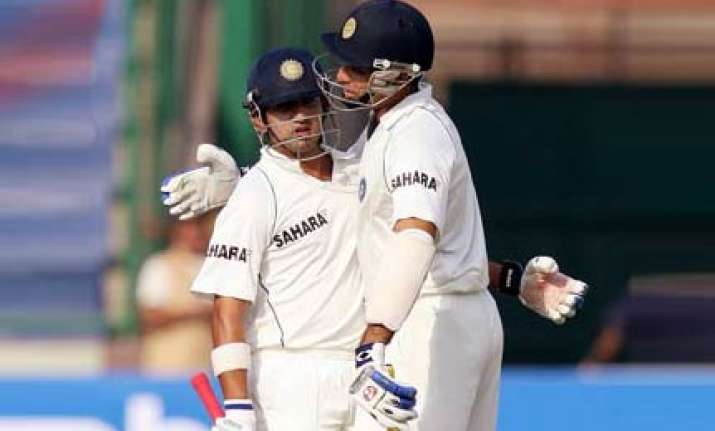 Ahmedabad, Nov 3: The Indian team's injury crisis seems to be finally ending with skipper Mahendra Singh Dhoni today announcing the return of first-choice batsmen Gautam Gambhir and V V S Laxman for the opening cricket Test against New Zealand starting here tomorrow.
Their return has forced the team to drop Murali Vijay and Cheteshwar Pujara but Dhoni feels the move would not be a de-motivating factor for the duo.
"As far as Vijay and Cheteshwar Pujara are concerned, they replaced Gautam Gambhir and V V S Laxman. And when you have players like that, when they come back into the team they will find a place in the final eleven. I don't think it's very de-motivating (for Vijay and Pujara)," Dhoni said at the pre-match media conference here today.
Vijay utilised the opportunity he got in Gambhir's absence and slammed his maiden Test hundred (139) and also put on a crucial triple century stand with Sachin Tendulkar to help India recover from a poor start and win over Australia in their previous Test at Bangalore last month.
Pujara too played in an attacking fashion to score a dazzling 72 in the same game when India chased a tricky 200-plus fourth innings target and achieved it with plenty to spare to complete a 2-0 whitewash over Australia.
Dhoni said both the youngsters knew they will have to sit out with the main players back and available for selection in the final eleven for the clash at the Sardar Patel Gujarat Stadium in Motera.
"What's important is they have also realized the fact once these players are back they will be in the playing eleven and they will have to miss out the game. At the same time it's good that they got the chance to play at the international level.
"Good thing is that Vijay has always done well whenever he's played for the Indian team. And Pujara also, in the last game he batted really well in the second innings," the India skipper said.
He also advised the duo to utilise the free time away from action to work on their strengths and iron out any weaknesses.
"They can work on their strengths as well as their weaknesses, which they think will affect them in performing very well. It's a good exposure and I don't think it's de-motivating they won't be playing in this game," he added.
For Dhoni, it was not the inconsistent displays of the seamers bowling in tandem with spearhead Zaheer Khan which is the worrying factor, but the injuries that have forced the team to constantly shuffle the pace pack.
"(Abhimanyu) Mithun played a game and then missed out. Ishant (Sharma) was in and out and (Shantakumaran) Sreesanth came to Sri Lanka and he was out. That's also the reason if you see the playing eleven you have Zaheer on one side and the other side the bowlers you see a constant change in them as most of the times they are either not fit or not 100 per cent fit," Dhoni said.
Dhoni said a team can gamble with a less than 100 per cent batsman by playing him, but can't take the same risk with the bowlers' fitness.
"When it comes to fast bowlers it's a very demanding job. With a batsman even if he is 70 to 80 per cent fit you can gamble and play him. When it comes to a fast bowler it gets very difficult especially when you play two fast bowlers and two spinners, which means if you miss one bowler in the middle of a Test match it becomes difficult to bowl those 90 overs (in a day). So the major concern is the injuries and hopefully no people would get injured at least till the World Cup," he said.
Dhoni hoped the wicket would be turning and he, after losing a few tosses, would win it tomorrow.
But he also pointed out that the team has grown in confidence after chasing well on the last two occasions against Australia on wickets of uneven bounce due to the track's wear and tear after India lost the toss.
"Hopefully it will be a turner. Actually it looks like it has less grass compared to the last Sri Lanka game we played and a lot less than the South Africa game we played. It looks like a normal Indian track".
"Certainly it's important to win the toss. I have lost quite a few tosses. In India it's considered that the fourth innings is the toughest to score runs, which means the batsmen have to bat cautiously. Even if they are set, one odd delivery can get you out.
"You can get a low bouncing delivery or a bit more bounce than the other delivery. It (batting well in the fourth innings) definitely adds to the confidence of the batting unit as a whole.
"But at the same time in India you always want to bat first and push the opposition to bat last. Which means they have to counter that extra bounce and turn when it comes to the spin attack. And a bit more reverse swing when it comes to seam bowling," he added.
He expressed hope that Sachin Tendulkar would complete his 50th Test century in the match. Dhoni also expects out-of-form Rahul Dravid to regain his touch and score many runs. PTI