Follow us on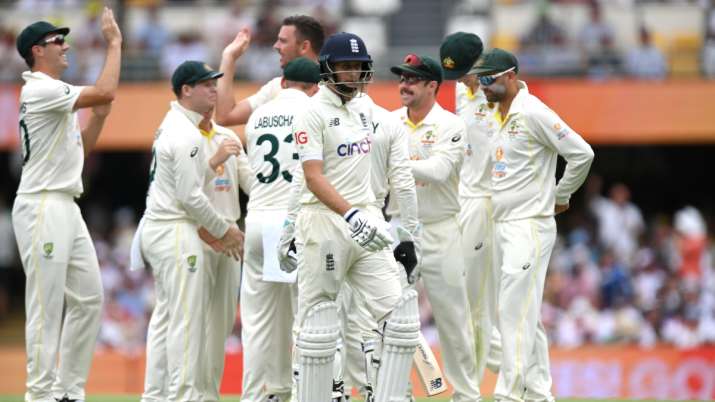 AUS vs ENG 1st Ashes Test, Day 1 Highlights: England 147/10 at Stumps
Play abandoned without any play since tea. England bowlers will start with the new ball on Day 2 of the ongoing first Ashes Test in Brisbane. 
Rain stops play at the Gabba
Australian skipper Pat Cummins takes a fifer. 
England 147/10 in 50.1 overs (TEA BREAK): Cummins grabs last 2 wickets! The Australian wraps up England's innings and returns with a fifer. Earlier Mark Wood and now Woakes, Cummins was the chief architect is restricting England to a low score. 
Clearly, England couldn't encash well on their decision to bat first as they struggled badly with the willow and kept losing wickets at regular intervals. 
England 122/8 in 45 overs: 2 WICKETS in six balls. First, Cameron Green removes Ollie Pope and then Cummins sends Robinson to the pavilion. Australia's pace battery is breathing fire at the moment. Look dominant over the visitors and England batsmen are trying to gather the runs on the board. 
ENG 112/6 in 40.3: WICKET! Starc removes Buttler and breaks the 52-run stand between the latter and Ollie Pope. A good length ball angling across off stump tempts Buttler to play, who gets a thick outside edge. Keeper Carey grabs it with safe hands, enabling Starc to get the breakthrough. 
England 98/5 in 36 overs: Ollie Pope and Jos Buttler have become an impediment in Australia's attack that was on a wicket-rattling spree. The duo is going on a merry way- gathering runs while rotating the strike and hitting the boundaries. 17 runs amassed from the past five overs. 
England 81/5 in 31 overs: Ollie Pope is facing Australia's pace battery with confidence. The new partner on the crease- Jos Buttler is showcasing some fine batting intent against the Aussies. The duo is keeping the scoreboard ticking and alongside smashing some boundaries. 21 runs gathered from the last four and a half overs. 
England 60/5 in 26.3 overs: WICKET! Pat Cummins sends Haseeb Hameed to the pavilion in just the first over after lunch. A fuller delivery tempts Hammed to come and play it forward. The English batter gets a thick outside edge which is easily pocketed by Steve Smith in the second slip. Cummins gets his second wicket. 
England 59/4 in 26 overs (LUNCH BREAK) Hameed and Pope ensured no further harm came to England as umpires call for Lunch break. Hazlewood was certainly the star of the opening session as he impressed with his line, length and ball movement to produce a stunning seven-over spell of two wickets for just three runs. 
England 50/4 in 22 overs Opener Hameed is growing in confidence in the middle as he try to rebuild England innings with Ollie Pope. Oz captain Cummins has already taken pace off the bowling attack with Nathan Lyon and Cameron Green introduced as bowling changes.
England 29/4 in 12.4 overs OUT! And that's the big wicket of Ben Stokes; delivered by none other than the Oz captain Pat Cummins, who had him taken at third slip with a in-swinger that took a fat edge of Stokes's bat.
England 20/3 in 10 overs Tumultuous batting display from England batters so far while surviving opener Haseeb Hameed and newly-in Ben Stokes are living dangerously at the moment. The Oz pace trio of Pat Cummins, Hazlewood and Starc are really coming hard at the Englishmen.
England 11/3 in 5.5 overs OUT! Hazlewood strikes again and this time it's the best English batter and captain Joe Root, who departs without scoring. The Oz pacer, who has been bowling beautifully this morning, bowled it full close to Root's off stump as the skipper went forward to defend. But he only finds the ball move away from him before taking an outside edge and carry to David Warner at first slip.
England 11/2 in 3.2 overs OUT! England in sort of trouble early morning . It's Josh Hazlewood whose outswinger to southpaw Dawid Malan took an outside edge of the Englishman's bat before the ball disappeared inside the gloves of debutant wicket-keeper Alex Carey. Was England captain Joe Root wrong to opt to bat first? He will get to figure out that himself as he is the new batter in.
England 0/1 in 0.1 over OUT! Mitchell Starc clean bowls Rory Burns off the first ball of the Ashes! Burns didn't see that yorker coming as he shuffled across too far while the Aussie pacer nailed the blockhole on leg stump.
5.30 AM Haseeb Hameed and Rory Burns open for England in the opening Test; Mitchell Starc to start with the new ball.
5.18 AM: PITCH REPORT The conditions look ideal for Australian pacers to exploit on the opening day as their a thick covering of grass all over the pitch with expected moisture underneath. The wicket might be a bit slow on the first day but the pace will pick up gradually. Also some overcast conditions as well with rain expected later on.
5.00 AM England have opted to bat first after winning the toss.
England (Playing XI) Rory Burns, Haseeb Hameed, Dawid Malan, Joe Root(c), Ben Stokes, Ollie Pope, Jos Buttler(w), Chris Woakes, Ollie Robinson, Mark Wood, Jack Leach
Australia (Playing XI) David Warner, Marcus Harris, Marnus Labuschagne, Steven Smith, Travis Head, Cameron Green, Alex Carey(w), Pat Cummins(c), Mitchell Starc, Nathan Lyon, Josh Hazlewood