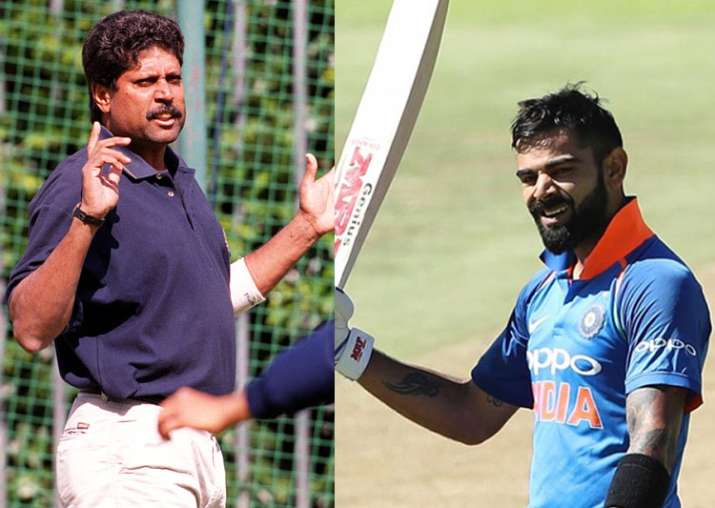 Watching the incredible form of Virat Kohli, riding which he recently scored his 34th ODI hundred in South Africa, former West Indies skipper Alvin Kallicharran is full of praise for the dynamic captain. Hailing his bold decisions, Kallicharran said Kohli has introduced a new brand of captaincy in India.
"He (Kohli) looks like a very determined chap. Determination means you can make your own decisions. I don't think India would ever have a captain like that," Kallicharran told The Times of India in an interview on Friday.
Comparing Kohli with India's first World Cup-winning captain Kapil Dev, the West Indies legend added: "Kapil used to take decisions on his own and he was an exciting cricketer. He used to make some decisions nobody thought could happen in cricket. Kohli now has brought a new brand of captaincy. (He's) somebody who says 'I will play with five batsmen or five bowlers' and sticks to that. Virat Kohli is not orthodox."
The 68-year-old left-handed batsman, who scored 4399 runs for West Indies, claimed that he follows Indian cricket closely and is astonished by the attitude of the young India skipper.
Kallicharran went on to shed some light on the similarity between Kohli and West Indies' great Viv Richards, saying: "The attitude is strong in both. I am one person who wouldn't like to compare players. But Kohli's attitude is as ruthless as Viv's was. Kohli seems to have some of those qualities."
"He is a successful captain. As a batsman, he is a phenomenon. Always hungry. His consistency is tremendous," he added.
While many former cricketers fear that Kohli, who is currently one of the most energetic batsmen playing cricket, might burn out with his over concern of fitness, Kallicharran was of the opinion that it is a matter of time. 
"It's a question of time. You never know what happens in the game and you never know what happens tomorrow. He is quite fit. In fact, the India team now is very fit, considering the amount of the cricket they play." he said.
On Thursday, Kohli admitted that intensity is the factor that makes his score runs like a machine. 
"I am a guy who likes to play with intensity. Once that is gone, I don't know what I am going to do on the field. I try to protect that," Kohli said in the post-match conference.
Talking about his target for four-five years down the line, Kohli said: "Look, I am going to be 30 this year. The decision was in terms of extending the quality of cricket that you want to play at an older age as well. I want to play this kind of cricket even when I am 34-35. That's why I train so much." 
"I try to train as much as I can. Keep a check on my diet. Those things pay off on days like these. When the team needs it, and you stand up, and you are able to pull through," he added. (Read full story)