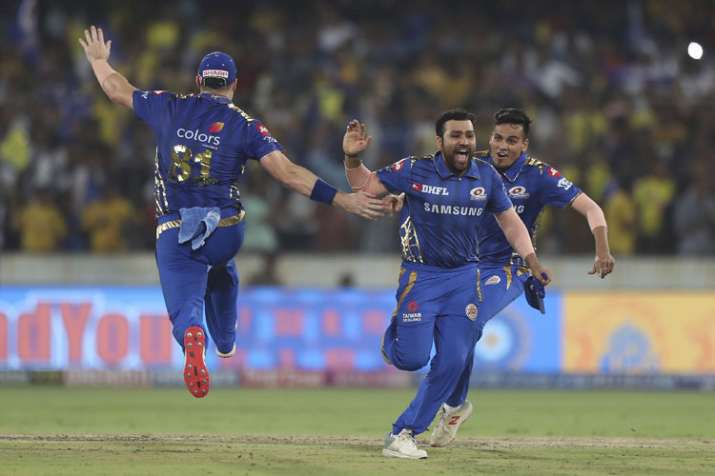 Mumbai Indians pipped Chennai Super Kings by 1 run to lift their fourth IPL title on Sunday at the Rajiv Gandhi International Stadium in Hyderabad.
With the game going to the last over, it was a see-saw battle but Lasith Malinga held on to his nerves do defend the modest total of 149 and give Mumbai their fourth IPL title. 
For a moment, the game was going away with Shane Watson going all guns blazing but with his run-out in the last over and Jasprit Bumrah bowling some extremely tight overs, MI managed to just sneak over the line and become the first ever team to win four IPL titles.
As emotions rolled on, the Mumbai Indians players gathered on the field and were extremely pleased with the close win.
Lot of people were saying that we had won three times so they would win the fourth. But I told Krunal, no, it's going to be 4-0. Lost a few kgs today (laughs), such a tight game. I used to have Mumbai Indians posters in my room growing up, and to win with them: amazing. Played well this season, but now time to move on. Want to lift that World Cup trophy as well: Hardik Pandya
The key moment was Dhoni's run-out. But also in patches when Bumrah bowled those critical to even out Malinga's one poor over was also crucial. And the last over, thought Malinga finished the game out beautifully. And as for the final, we knew we defended 129 in the final two years ago, so we were confident. I think we have a terrific team - with experience and youth. As Mahela said, Rahul Chahar stands out the way he's bowled this season. Just fabulous: Sachin Tendulkar
Thought we had the game when MS got out, but then Watto started hitting. Some great decisions by Rohit, going back to experienced bowlers at the death. This is why we wanted to defend. Wanted to take a punt with Pollard while batting since he is good against CSK. Asked him to get us out off the mess, and he did so. Big players come to the party in big games. Young Rahul Chahar came off age too. Held his nerve on a wicket where there wasn't much: Mahela Jayawardene
These sort of games, these are the games you want to perform. People remember these games. Playing in so many finals, I knew getting runs adds pressure for the team batting second. I missed a few shots, but the way Bumrah and Malinga bowled in the last two overs - they finished it off for us. Malinga, a legend. Even in 2017, we didn't put too many runs on the board. The team that panics less does better. It was a team performance: Kieron Pollard
The ball was reversing when de Kock missed the ball, but we wanted to stay calm since similar things happened against Pune in 2017 as well. We always believed in our team this season. We have confidence in each and every individual. On their given day, any of our players can be matchwinners: Jasprit Bumrah
Last ball, I thought that if they get one run, it would be a Super Over, but I wanted us to win. So I went for my wicket ball: Lasith Malinga
Unbelievable game. From childhood, we wanted to play good cricket together. Even when we weren't in the IPL, we wanted to play for Mumbai Indians. And a word on Hardik, he's been unbelievable. I don't need to look elsewhere for inspiration, I have Hardik: Krunal Pandya
I think it was a very exciting game. Perfect final. We wanted this to happen at the end of the season. Most importantly the process that we follow before the tournament starts. That I feel is the key which takes the team forward and wins you titles: Suryakumar Yadav